As an experienced pianist and music teacher for over 20 years, I've tested my fair share of piano benches. A good piano bench is essential for proper posture, technique, and achieving your full musical potential at the instrument. After trying countless options over the years, I've narrowed down the 7 best piano benches based on comfort, adjustability, durability, aesthetics, and extra features like storage.
My Criteria for the Ideal Piano Bench
Before diving into my top picks, let me overview the key factors I evaluate when choosing a piano bench:
Comfort
You'll be sitting for hours practicing and performing, so comfort is paramount. Padding thickness and density, seat size, and back support determine how comfortable a bench feels over extended playing sessions.
Adjustable Height
A bench with adjustable height allows you to find the ideal seating position relative to the piano keys. This helps maintain proper hand form and wrist alignment.
Build Quality
High-quality materials like solid hardwoods and steel withstand years of daily use. Sturdy construction also provides stability when sitting down and adjusting body weight during playing.
Aesthetics
The bench should complement your piano's finish and style. Traditional wooden benches match acoustic uprights and grands, while modern padded seats pair well with digital pianos.
Storage Space
Built-in storage compartments keep sheet music, books, and other accessories organized yet easily accessible. This is incredibly handy for teachers and students.
Portability
For gigging musicians, lightweight construction and folding capability makes the bench easy to transport between performance venues.
The Best Piano Benches in 2023
1. On Stage KT7800+ – Best Overall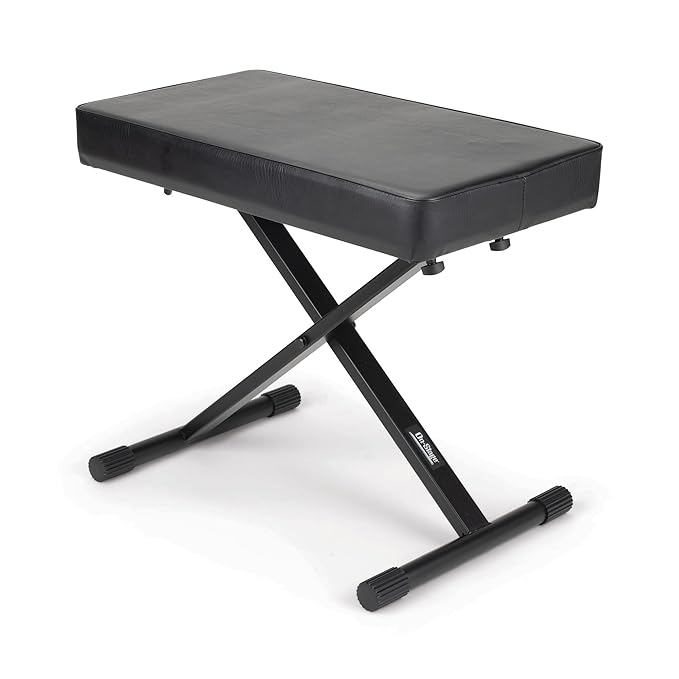 The On Stage KT7800+ is my top overall pick for its unbeatable combination of comfort, adjustability, durability, and portability.
Pros:
Thick 2.5" padding provides hours of cushioned comfort
Steel frame adjusts from 19" to 22.5" in height
Folds down for convenient transport and storage
Lightweight yet sturdy construction
Cons:
Plain design lacks aesthetic appeal
No storage compartment
I've used this bench for years in my home studio and take it to gigs. The thick 2.5″ padding feels indulgently cushy and comfortable during long practice sessions. My students always remark on how soft and supportive the seat feels.
The velvet upholstery adds elegance and resists visible wear well. The steel frame adjusts smoothly from 19" to 22.5" to accommodate my 5'10" height or shorter students. I appreciate the sturdy X-frame that folds down in seconds for easy transport but feels reassuringly stable when open.
The non-slip rubber floor protectors prevent sliding on wood or tile floors. At just 15 lbs, it's easy for me to carry using the integrated handle. With a 350 lb weight capacity, the bench easily accommodates adult students too.
For exceptional comfort, versatility, stability, and value, the On Stage KT7800+ is my top choice.
2. Flexzion Padded Keyboard Bench – Best Budget
The Flexzion offers an affordable padded bench with adjustable height and lightweight portability.
Pros:
Costs less than $50
1.5" foam padding provides basic comfort
Steel frame adjusts from 17.5" to 21.5"
Weighs just 8 lbs for easy portability
Cons:
Less padding and narrower than pricier options
Materials feel a bit cheap
As a teacher, I'm always looking for decent-quality benches that won't break the bank for my students. The Flexzion provides a solid affordable option.
At under $50, this bench delivers essential features like adjustable height from 17.5" to 21.5", 1.5" foam padding, and a steel frame that folds down for storage.
The padding feels thin but adequate for shorter practice sessions. The PU leather upholstery seems a bit cheap but holds up reasonably well to regular use. At just 8 lbs, even my younger students can easily move the bench themselves.
While it doesn't compare to premium benches, the Flexzion gives budget-conscious students a perfectly functional bench for basic comfort and ergonomics.
3. Yamaha PKBB1 X-Style Bench – Best for Acoustic Pianos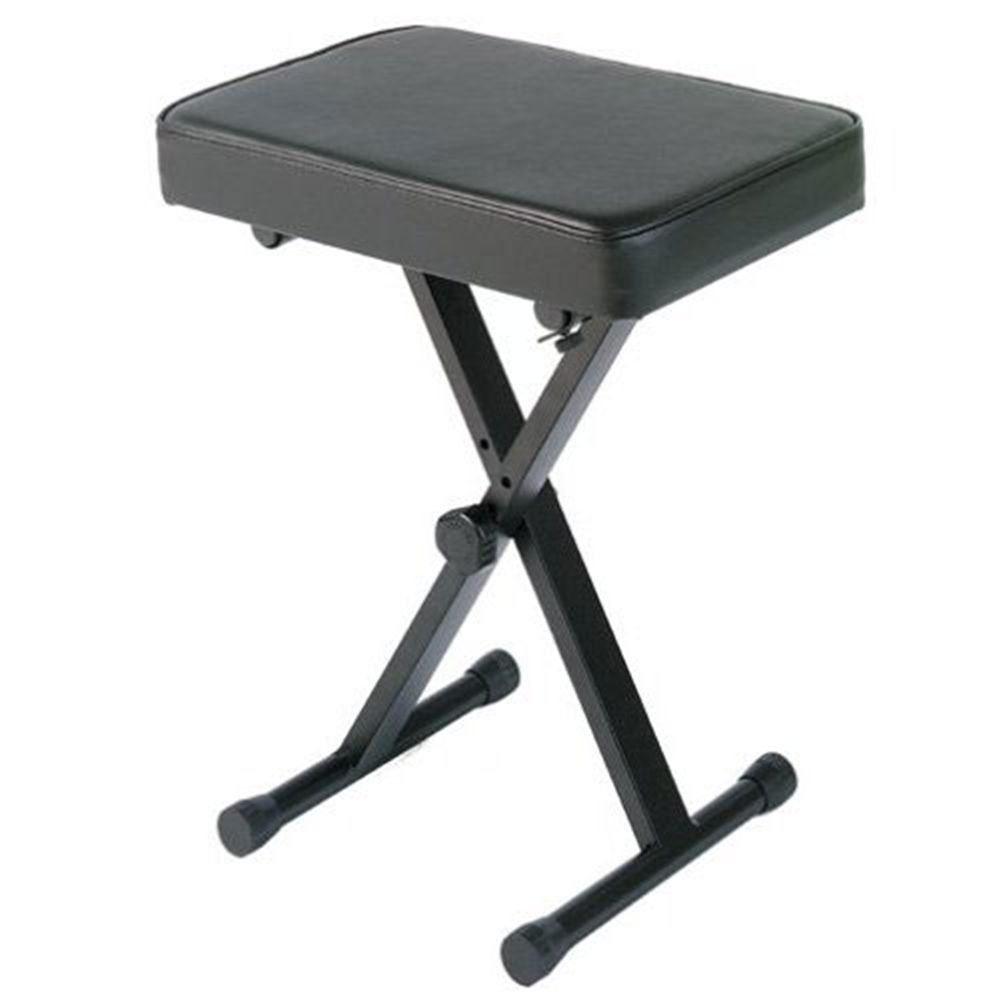 With its traditional polished wood design, the Yamaha PKBB1 pairs perfectly with acoustic pianos.
Pros:
Classic aesthetic matches acoustic uprights and grands
Quality hardwood construction with lacquer finish
Dense 2" padding for ample cushioning
Cons:
Expensive
Fixed height
No storage compartment
With its gorgeous polished wood design, the Yamaha PKBB1 pairs beautifully with my Yamaha grand piano.
The quality hardwood construction with lacquer finish provides a touch of timeless elegance that fits right in with my traditional decor. The dense 2" padding strikes the ideal balance of cushioning comfort and support.
The fixed height design at 19.5" works well for my height, though some students have to use a footstool. While expensive, the fine materials and craftsmanship make the investment worthwhile for long-lasting durability.
For traditional style worthy of the finest acoustic pianos, the Yamaha PKBB1 offers sophisticated aesthetics and sturdy comfort.
4. World Tour Deluxe Padded Bench – Best for Gigging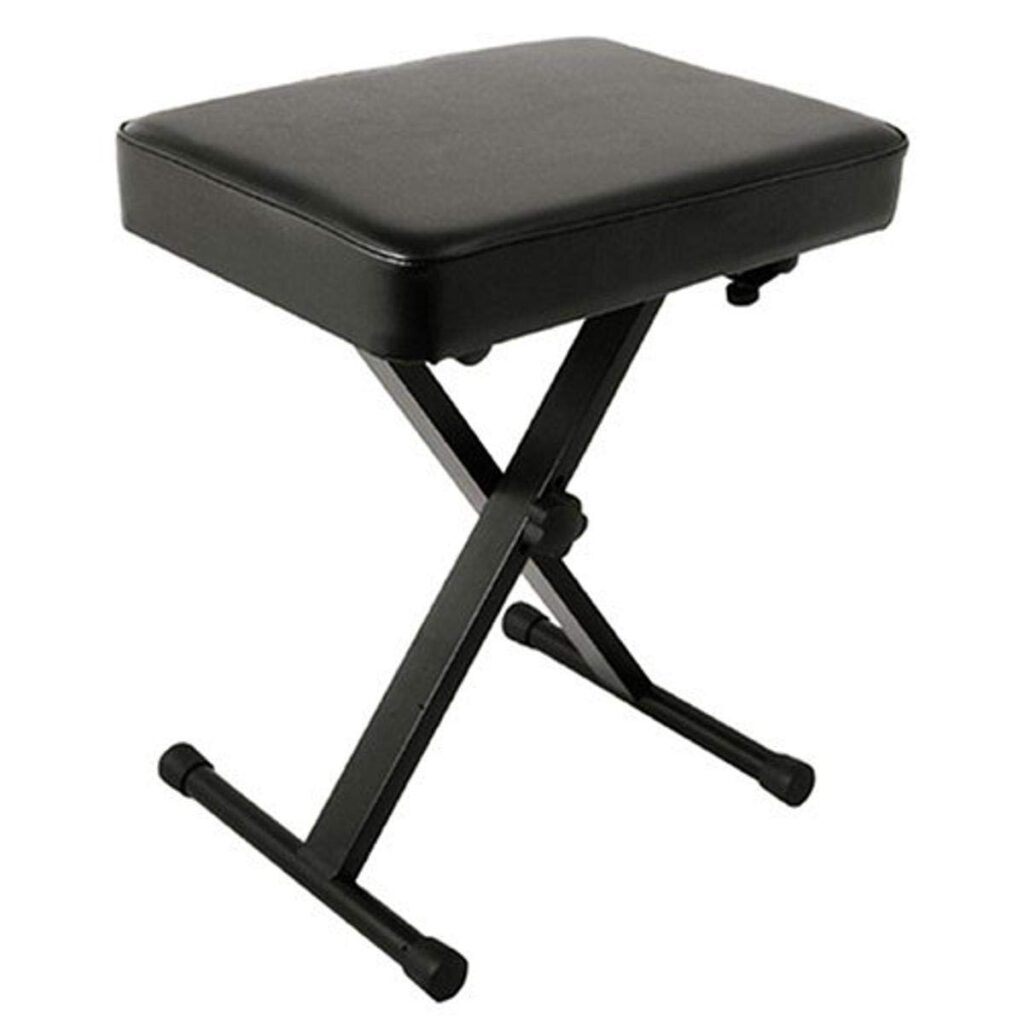 With robust steel construction and foldable portability, the World Tour bench excels for gigging and stage use.
Pros:
Durable powder-coated steel frame
Folds down for easy transport
2" padding provides performance comfort
Decorative stitching adds visual flair
Cons:
No height adjustment or storage compartment
As a performing pianist, I need a sturdy bench that's portable for gigs. The World Tour bench provides ideal on-stage functionality.
The thick powder-coated steel frame withstands the rigors of regular transport and setup without wobbling or tipping. The 2" padding feels great even during long performances.
At 17 lbs, it's lightweight for easy loading in and out of venues, while feeling reassuringly stable in use. The decorative double-stitching adds visual flair that works well on stage.
While it lacks height adjustment, for unmatched durability and portable convenience, the World Tour is perfect for my gigging needs.
5. Neewer PU Leather Bench – Best Storage Compartment
The Neewer bench maximizes storage with a spacious under-seat compartment for sheet music and accessories.
Pros:
Roomy storage compartment
Quality PU leather seat
Hardwood construction with gloss finish
Adjusts from 19.6" to 23.6" in height
Cons:
Assembly required
No padding beneath leather
In my home studio, I love the Neewer bench for keeping all my materials neatly organized yet easily accessible.
The spacious under-seat storage compartment holds multiple music books, binders, and accessories that I use daily. The quality PU leather seat looks sleek, while the hardwood construction provides a polished finished that matches my decor.
The bench adjusts from 19.6" to 23.6" to accommodate my height or guest players. Assembly is quick with the included tools. My only gripe is the seat lacks padding beneath the leather.
If you want ample integrated storage, the Neewer PU Leather bench is an excellent choice.
6. Casio Privia Duet Bench – Best for Teachers
The Casio Privia bench provides a split bench design ideal for piano lessons and duet playing.
Pros:
Dual-sided padding with independent height adjustment
Sleek contemporary styling
Faux leather upholstery with 2" cushion
Cons:
Narrower width per side
No storage compartment
As a piano teacher, I appreciate the clever split bench design of the Casio Privia for accommodating two players.
The dual-sided padding and independent height adjustment allow me and my student to each customize our seating position. At 21" wide per side, it's narrower than a full duet bench but provides adequate space for lessons.
The sleek contemporary styling matches my digital piano, and the faux leather upholstery is easy to wipe clean. While it lacks storage, the Privia Duet bench maximizes functionality for piano lessons.
7. RockJam KB100 – Best Budget X-Style Bench
The RockJam KB100 is a super affordable X-frame bench padded with faux leather.
Pros
Very affordable price point
Lightweight and portable
Simple and quick height adjustment
Sleek all-black color
Cons
Limited padding comfort
Only 4 height settings
Cheap feel due to budget price
Bottom Line: The RockJam KB100 is the best budget pick under $25. The lightweight design and straight-forward adjustable height make this a great portable bench for beginners.
I have used the RockJam KB100 bench and found it to be a great portable and affordable option. The X-frame design folds up nicely for transport and storage. I was able to fit it in a car trunk easily. The padding is on the thin side, so I added an extra cushion I had for a little more comfort during long practice sessions.
Adjusting the height is very quick and doesn't require tools. I set it at the lowest setting since I am on the shorter side. The bench stayed stable and did not wobble at all when I was playing.
What to Look for in a Piano Bench
Now that you've seen my top recommendations, let's explore what features and design elements make for an excellent piano bench.
Seat Size
Standard bench widths range from 20" to 30" wide. For single players, aim for at least 24" wide to allow shifting from the edges to middle of the keyboard. Duet benches should be 30"-36" wide to accommodate two players.
Bench depth ranges from 14"-17". Make sure your legs fit comfortably without hitting the front edge.
Seat Material and Padding
More padding means more comfort, but also increases cost and weight. Here are common seat materials:
2"-4" Padding: Provides ample cushioning for extended playing times. Polyurethane foam or dense memory foam are excellent options.
Faux Leather: PU leather is waterproof, easy to clean, and more affordable than real leather. It withstands years of use.
Real Leather: Top grain leather offers unmatched softness and breathability. It's the most luxurious and durable covering.
Wood: Hardwood seats with lacquer finish are firm yet polished. Great for traditional all-wood benches without upholstery.
Frame Construction
The frame holds the weight of you and any storage contents. Sturdy materials prevent wobbling or tipping:
Steel: Powder coated steel offers strength at low weight for portable benches. But it may feel less stable than wood.
Solid Hardwood: Hardwood like oak provides classic elegance and sturdiness. But it's heavier and usually fixed height.
MDF: Composite wood is strong yet lightweight. But it's not as durable for long-term heavy use.
Plastic: Cheaper benches may use plastic frames. These are very lightweight but lack stability for serious playing.
Storage Compartment
Many traditional wood benches feature storage under the hinged seat to keep sheet music, books, and accessories out of sight but close at hand. Look for ample depth and easy access.
Adjustable Height
An adjustable bench ensures proper arm, hand, and body alignment at any piano. Look for at least 4-6 height settings or continuous adjustment. Easy-glide levers allow smooth, effortless changes.
Portability
For gigging musicians, prioritize lightweight construction, folding capability, and integrated handles for easy transport. Sturdy latches keep the bench securely folded up.
Aesthetics
Choose a finish and style that matches your piano. For example, polished wood pairs well with traditional uprights and grands. Low profile padded seats complement modern digital pianos.
Using Proper Posture and Hand Position
Why is an ergonomic piano bench so crucial? Proper seating posture and hand alignment reduce muscle tension and fatigue, allowing you to play comfortably for longer periods while avoiding injury.
Posture Pointers:
Sit tall with your back straight, not hunched or slouched.
Align your nose, navel, and knees in a straight vertical line.
Rest your forearms parallel to the floor.
Avoid resting wrists on any hard surfaces.
Hand Position Tips:
Place your wrist inline with your knuckles and forearm. Avoid bending wrists up or down.
Keep a rounded hand shape, avoiding flat or tense fingers.
Use your arm weight, not just fingers, to depress the keys.
Keep shoulders, elbows, and wrists relaxed as you play.
Caring for Your Piano Bench
With regular care and maintenance, a quality piano bench will serve you for many years of music making. Here are some tips:
Wipe wood benches with a soft cloth and polish to keep the finish glowing.
Clean padded seats with a damp cloth and mild soap as needed. Avoid harsh cleaners.
Inspect the height adjustment mechanism periodically. Lubricate levers or screws with WD40 or sewing machine oil to keep operation smooth.
Tighten any loose screws or hardware. Check that rubber floor protectors are intact.
Treat leather upholstery with a leather conditioner every 1-2 years.
For storage benches, periodically clean out dust and clutter to keep the compartment organized.
Always lift and carry the bench properly to avoid damage. Engage latches when folding for transport.
Here is a well-written conclusion for the piano bench article:
Summary
When selecting a piano bench, carefully consider your needs in terms of comfort, quality, aesthetics, and functionality. Test different options in person if possible to evaluate padding, height, stability, and other features.
For home use, look for ample padding for extended practice along with elegant traditional wood styles to match acoustic pianos. Teachers should opt for split benches to accommodate two players. Gigging musicians need lightweight portability and stage-worthy looks. Those using their bench outdoors will require weatherproof, heavy-duty construction.
While the initial investment may seem high, a quality bench that properly supports your posture and technique will serve you well for many years. Proper spinal alignment and wrist positioning are crucial to avoiding pain or injury, especially with regular practice.
Of the models discussed here, the On Stage KT7800+ provides exceptional comfort and versatility for most players. But carefully weigh your priorities to select the ideal bench for your budget, piano style, and environment.
With the proper bench height, padding, and design, you can focus on the music rather than discomfort. Pairing the right bench with your piano helps transport you to a state of creative flow. An optimal bench improves your playing experience and musicality.
Let me know in the comment section if you have any other questions as you search for your perfect piano bench match! I'm always happy to offer personalized recommendations to help pianists find just the right seat for their needs.
FAQs
Q: What is the best piano bench for all budgets in 2023?
A: The best piano bench for all budgets in 2023 would depend on personal preferences and requirements. However, some popular choices include adjustable piano benches, artist piano benches, concert piano benches, and Songmics piano benches.
Q: What does "adjustable" mean when referring to a piano bench?
A: When a piano bench is described as adjustable, it means that the height of the bench can be changed to accommodate different pianists or playing situations. This feature allows for optimal playing posture and comfort.
Q: What are the advantages of using an adjustable piano bench?
A: An adjustable piano bench offers several advantages. It allows pianists of different heights to find the right position at the keyboard, reduces the risk of stiffness or strain during long practice sessions, and provides a comfortable seating option for playing the piano or keyboard.
Q: How do I choose the best piano bench for my needs?
A: When choosing a piano bench, it is important to consider factors such as adjustability, cushioning, style, and budget. Determine your specific requirements and preferences, and then compare different options to find the one that suits you best.
Q: Can I use a piano stool instead of an adjustable piano bench?
A: Yes, you can use a piano stool instead of an adjustable piano bench if it meets your needs and provides adequate comfort and support. However, an adjustable piano bench offers more flexibility and customization options.
Q: What is the importance of a padded cushion on a piano bench?
A: A padded cushion on a piano bench provides additional comfort for prolonged playing sessions. It helps reduce pressure on the sitting bones and prevents discomfort or pain while playing the piano.
Q: Why is it important to choose the right piano bench height?
A: Choosing the right piano bench height is crucial for maintaining proper playing posture and technique. If the bench is too high or too low, it can result in discomfort, tension, and decreased playing efficiency
Q: What are the different types of piano benches?
A: There are various types of piano benches available, such as adjustable piano benches, artist piano benches, concert piano benches, duet piano benches, and grand piano benches. Each type caters to different needs and preferences.
Q: What should I consider when buying a piano bench?
A: When buying a piano bench, consider factors such as adjustability, comfort, stability, durability, and style. Additionally, take into account your budget and specific requirements to make an informed decision.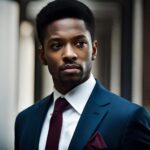 Hi, my name is Pallav, and I've been playing the piano for over 20 years. I'm also the proud owner of Digital Keyboard Piano, an online platform where I share detailed reviews of the latest MIDI controllers, digital pianos, and related equipment.