As a professional keyboardist and music producer, I'm always on the lookout for gear that can inspire creativity both on stage and in the studio. About two years ago, I decided to invest in the Nord Stage 3 digital piano after having lusted over Nord keyboards for years.
I was particularly interested in using it for acoustic piano and Rhodes sounds in jazz and classical contexts. After extensive use of gigging and recording with Stage 3, I'm happy to report that it has exceeded my expectations and become an indispensable part of my rig.
Variants (73/76/88 keys)
The Nord Stage 3 keyboard comes in three varieties – 73-keys, 76-keys, and 88-keys. Each one serves its purpose for musicians and producers. The 73-key variant is popular for cafe performances. 76-keys is perfect for those wanting extra range and professional performance. If you want to play grand piano licks or orchestral pieces, live – choose 88 keys!
The Nord Stage 3 has modern technology in an ultra-lightweight design. This makes it easy to take your keyboard performance anywhere. Also, no mechanical parts reduce noises usually associated with physical instruments. Moreover, you can integrate your set-up with laptop gear and streamline your workflow during live performances or studio sessions.
Each model has different controllers – but all are designed with intuitive music creation in mind. The high-quality Fatar keyboard mechanism ensures smooth playing with a sensitivity of control – perfect for both stage performances and recording!
| Dimensions | Stage 3 88 | Stage 3 HP76 | Stage 3 Compact |
| --- | --- | --- | --- |
| Weight | 19 kg / 41.8 lbs. | 12.5 kg / 27.5 lbs. | 10 kg / 22 lbs. |
| Width | 128.7 cm / 50.7″ | 112.2 cm / 44″ | 107 cm / 42″ |
| Depth | 33.4 cm / 13″ | 34.7 cm / 13.6″ | 30.2 cm / 12″ |
| Height | 11.8 cm / 4.7″ | 12.7 cm / 5″ | 10.4 cm / 4″ |
Design
The Nord Stage 3 is a professional-level digital instrument. It has a sleek design and useful features. Two independent sound sections, onboard effects, and configurable controls make it perfect for creating the right tone.
The four main sections: piano, organ, synth, and sample, each have unique controls. The 61-key semi-weighted waterfall keyboard is fast to learn. Sliders allow users to adjust each section's volume or other parameters independently.
The Stage 3 has multiple outputs for connecting external devices and MIDI in/out ports for interfacing with any compatible hardware or software MIDI equipment. USB connectivity allows for connection to computer or tablet devices while still being able to access all onboard functions.
| Image | Product | Feature | Price |
| --- | --- | --- | --- |
| Top Pick | 1. Nord Stage 3 | The Nord Stage 3 has modern technology in an ultra-lightweight design. This makes it easy to take your keyboard performance anywhere. | Check On Amazon |
| | 2. Yamaha P-125 | The Yamaha P-125 is a highly-rated digital piano that is popular among both beginner and advanced pianists. | Check On Amazon |
| | 3. Yamaha P45 | This high-quality stage piano has been designed with input from some of today's top touring artists and boasts a wide range of sounds, including electric pianos plus strings and organs sampled from Yamaha's famed CFX concert grand. | Check On Amazon |
| | 4. Casio PX-870 | This slim and stylish digital piano features Casio's AiR Sound Source for realistic acoustic piano sound, along with hundreds of additional sounds and effects. | Check On Amazon |
| | 5. Casio PX-770 | The Casio Privia PX-770 is an affordable digital piano that offers a realistic piano sound and feel. | Check On Amazon |
Keyboard
Nord Stage 3 features a 61-note, semi-weighted keyboard. It has adjustable velocity curves and aftertouch/channel pressure for sound control. The slim 31-mm profile is perfect for on-the-go use. The top surface of the keys are textured for better grip. Plus, keybeds are swappable – so you can mix organ/synth/piano sounds. This keyboard is ideal for fast scales/rhythms or subtle dynamics.
In short, it provides the right features to give a professional performance.
Stage 3 88
The Nord Stage 3 88 is a digital piano that stands out! Its fully weighted FatarTP/9S action has advanced aftertouch sensitivity and velocity response. 88 keys that offer natural weighted hammer action make it great for live performance and recording.
The keyboard provides a wide selection of sounds, with three sections: Piano, Organ, and Synthesizer. Samples from vintage instruments like electric pianos and classic organs, plus modern synthesizers like the Access Virus TI2 series, are all included. You can mix and match sounds for a unique patch. It also has effects parameters, multi-effects processors, and an arpeggiator. All in all, the Nord Stage 3 88 is an excellent choice at an affordable price!
Stage 3 HP76
The Nord Stage 3 HP76 is a professional live-performance keyboard. It's designed for experienced musicians and features electro-mechanical piano technology. With a 76-note hammer-weighted keyboard, it offers velocity and aftertouch control.
This digital workstation creates superior sound. For touring musicians and studio projects, this workstation provides versatility and power. Live controls, pitch bend, and modulation wheels let you manipulate sound easily as you play. Onboard sounds include an organ, electric piano, strings, and synthesizers. Switching between instruments is simple.
The Nord Stage 3 HP76 shapes the music in real time. Analogue compressors and filters make vintage sounds punchy and modern. Effects processors include delay, chorus/flanger/phaser options, and reverb choice. It's the perfect choice for mastering frontman performance.
Stage 3 Compact
For those requiring a slimmed-down version of the Nord Stage 3, the Stage 3 Compact is ideal. It packs the same sounds and features as its big brother in a lightweight package. It has two sound-generating sections and a separate FX section, offering great flexibility. At its core is the triple-keybed organ, piano, and synth engine.
There are four parameter knobs with eight locations each to control effects and filters and combine both sounds in real-time. The Stage 3 Compact also has a built-in arranger section for quickly switching between compositions during live performances. There are up to four simultaneous effects slots (changed via the OLED menu) for sound manipulation. Its compact size makes it easy to take on the road, making it an excellent choice for musicians needing professional quality sound in a slim form factor.
Sound
The Nord Stage 3 is a digital keyboard with impressive sound capabilities. It's user-friendly and allows you to craft professional-level sounds.
The Sound Engine has three layers – Organ (Drawbars), Piano (Upright and Grands), and Synth. The Synth engine offers access to wavetables, waveform design, wave sequencing, and granular synthesis. The Piano engine features models with parameter control options, such as compression and velocity curves. And lastly, the Organ engine provides models and classic drawbar organ simulations.
The Nord Stage 3 has natural sound with 38-band EQ in all three sound engines, plus dual FX slots for up to 10 effects per zone. These include distortion, stereo chorus/phaser/flanger/vibrato, tape echo and organic live looping, reverb types, filter types, and compressor type settings. The 88 keys weighted hammer action keybed also adds to its versatility.
All of this makes the Nord Stage 3 one of the most comprehensive pro keyboards out there!
Piano Section
The Nord Stage 3's piano section is an integral part of the synth. With top-notch sound quality, it makes you feel like you're playing a real instrument. You can switch between digital and modelled piano sounds with the 'Organize' button and even layer multiple sounds – perfect for any musical setting.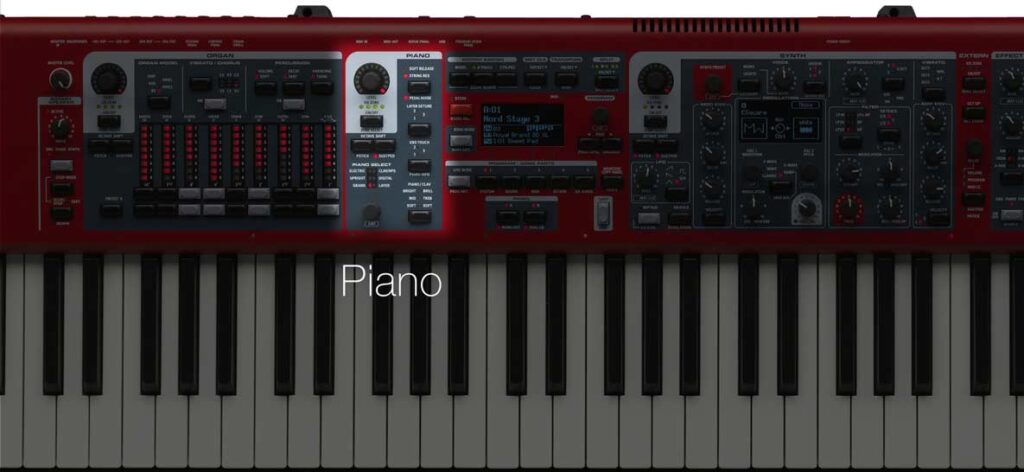 Nord's version of upright and grand pianos offers multiple voices and an extended dynamic range. There's plenty of punchy low-end for bassists, and for detail-oriented musicians, there are sparkling highs. The iconic tone wheel organ engine provides soulful vintage organ vibes, with infinite possibilities for songwriting and performance.
The effects matrix lets you shape your sound quickly and easily. Reverb, EQ, chorus, and other classic effects are available to give that professional edge. The 88-note keyboard has 'aftertouch' functions, letting you control individual notes within phrases.
You Also Might Like: Nord Stage 2 EX Review
Organ Section
The Nord Stage 3 organ section offers a recreation of classic electric keyboards. It has been improved since 1973, providing performers with a huge range of tones, including the B-3, Vox Continental models, and Yamaha YC's.
Users can access 122 historical presets, including upper-sideband harmonic percussion levels. You can also use drawbar settings from a 3rd generation tonewheel generator or select from 9 user-loadable slots for your own tonewheel simulation. You can assign up to 4 dynamic drawbars per slot, making it possible to create realistic tones.
The Hammond sound engine features rotary speaker simulation with 2 Leslie speeds, brake and acceleration. The organ section also features five digital effects, including overdrive/distortion.
Synth Section
The Nord Stage 3's synth section is a powerful addition. You can access the Nord Piano Library, which has dozens of high-quality piano samples. Plus, you can add layers of sound for thick leads or pads. There's also an expansive library of analogue and digital synthesizers from leading manufacturers.
The synth section has two parts: Synth and Sampler. The Synth layer lets you stack four sounds on top of each other or blend them. It makes modern synthesis easy and has programmable controls.
The Sampler layer lets you resample instruments and use loopers and vintage drum machines in real-time. You can also integrate projects from Ableton Live and Logic Pro X with Nord Sound Manager. It has extra features like Layers, which let you switch sounds quickly.
Effects
The Nord Stage 3 is known for its effects. These include a multi-effects section, delay, reverb, and synths. There are amp, and cabinet presets, making sound shaping and adjusting easy. The graphical control surface makes effects parameters accessible.
The multi-effects section has four global effect types – distortion, compressor/limiter, EQ, and modulation. It has 29 patch-specific effects – Reverbs, Delays, Chorus, Flanger, Phaser, Rotary, and Tremolo/Vibrato. All four main effects can be used at the same time.
The delay has tempo sync with up to 1024 milliseconds of pre-delay, plus tap tempo. Reverb has 30 Room Types, from large Halls to tight Spaces. Synths have an Arpeggiator, octaves range setting, velocity curves, and pitch bends. Hard Sync technology provides tracking and creates complex sounds.
Nord Triple Pedal
The Nord Stage 3 is designed with an optional Nord Triple Pedal for ultimate convenience and flexibility. You can get fuller sustain, wider organ swell effects, and more. The pedal sends information about the notes you're playing to your Nord keyboard. It comes with three independent foot pedals for extra control.
The first works as a sustain pedal to change the length of a note.
The second acts as a crescendo for organ sounds, making them louder or softer.
The third is a swell pedal for controlling instrument dynamics.
These pedals are customizable to add a personal touch to your sound. Plus, save your custom settings and assign them with just one button!
Summary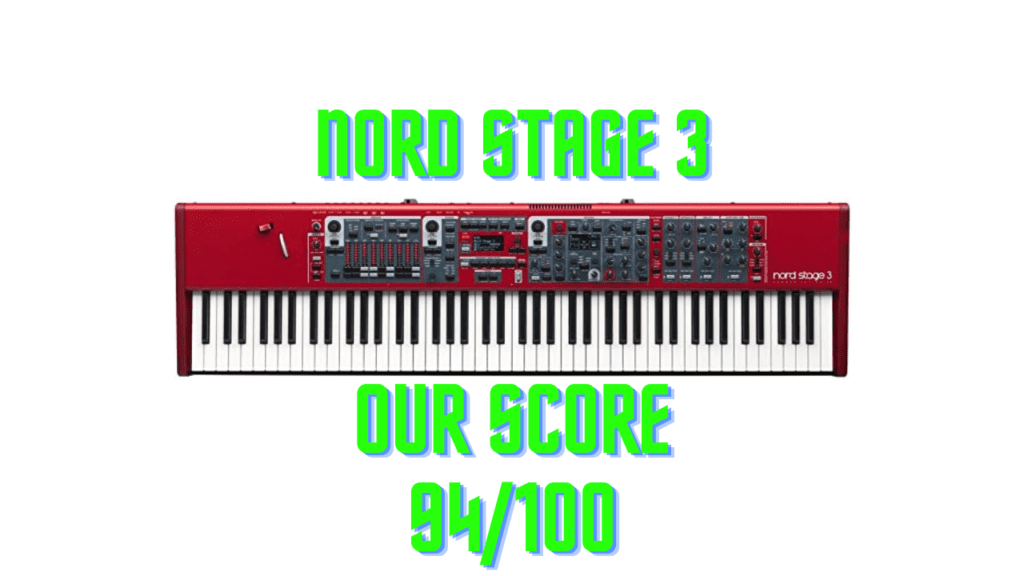 [button color="black" size="medium" link="https://amzn.to/3kdmkt0″ icon="Buy on Amazon" target="true" nofollow="false" sponsored="false"]Buy on Amazon[/button]
The Nord Stage 3 – a professional stage piano! It has an 88-key, fully weighted keyboard – so realistic. Plus, drawbars and programmable slots – create whatever sound you want. Effects section – reverb, chorus, parametric EQ. Mod wheel – shape your sound. Professional musicians love this keyboard. Perfect for stage or studio – worth considering!
Frequently Asked Questions
Q1: What is the Nord Stage 3?
A1: The Nord Stage 3 is a professional music keyboard designed for stage and studio use. It features a range of analogue and digital sounds, advanced synthesis capabilities, and extensive modulation and effects options. It is perfect for live performances as well as studio recordings.
Q2: What is included in the Nord Stage 3?
A2: The Nord Stage 3 includes a range of virtual analogue and sample-based synthesizers, a piano section with a Nord Piano Library and a Nord Sample Library, and a range of effects and modulation options.
Q3: What makes the Nord Stage 3 a professional keyboard?
A3: The Nord Stage 3 is designed for professional use and features an intuitive interface, flexible sound design options, and a range of advanced performance tools. It is perfect for live performances as well as studio recordings.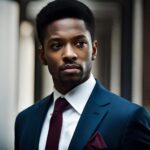 Hi, my name is Pallav, and I've been playing the piano for over 20 years. I'm also the proud owner of Digital Keyboard Piano, an online platform where I share detailed reviews of the latest MIDI controllers, digital pianos, and related equipment.