Having gone through our previous article, or more aptly, having listened to it, I am certain that you are in awe of the amazing potential that a DAW possesses. With the ability to manipulate samples and edit podcasts, the opportunities are limitless.
The last piece highlighted the various features and tools that are available in a DAW. It is undoubtedly a versatile tool that can cater to a wide range of audio-related tasks, such as music production, podcast editing, and sound design.
Notably, a DAW offers an intuitive interface that simplifies the audio production process. It allows you to arrange, mix, and master tracks with ease, thanks to its powerful editing capabilities. Whether you are a novice or a seasoned audio engineer, a DAW is an indispensable tool that can help you achieve your audio goals.
Digital Audio Workstations (DAWs) have changed the music production world in the last 20 years. They give improved audio editing and mixing. Beginner or experienced producers, there are various DAWs on the market. Drag-and-drop editing, virtual instruments and effects – today's DAWs offer creative options like never before.
In this guide we will review the top DAWs of 2023. We will talk about their features such as ease-of-use, pricing model and included plugins. This will help you find the DAW for you. Let's start!
Explanation of what a DAW is
A (DAW) is an electronic device or computer program used for recording and producing audio files. Editing, mixing, and mastering digital audio can all be done with DAWs.
DAWs are used for a range of projects, such as recordings, radio shows, music videos, podcasts, commercials, soundtracks and live performances. Professional music producers use DAWs for their projects. Features like multiprocessing, MIDI sequencing, virtual instruments, automation, track building with samples or live instruments, plug-ins and presets help them create big sound and intricate production.
The best DAWs available allow you to make studio-quality music productions from scratch with increased creativity. All this can be done with a single multifunctional software.
Importance of using a DAW
DAWs are essential for any musician who wants a pro-level sound. They've become increasingly popular, especially as producers lean towards digital methods.
A DAW is audio software which records, edits and mixes audio with control. It's like a tiny recording studio on your computer, with virtual instruments, effects, sample libraries, etc. It's a powerful tool for any genre, allowing you to perfect your sound.
Choosing the right DAW is key, as features vary. Some are better at quick edits while others have deep MIDI production capabilities. Match the features to your production needs and skill level to take advantage of the program.
The music production landscape is ever-evolving, making it hard to choose. Our guide to the best DAWs 2023 will help you find the ideal platform for your workflow.
Brief history of DAWs
DAWs have transformed music production for decades. Before, studios used large racks of outboard gear, modular synths and tape machines. However, DAWs revolutionized the way people make, edit and mix music. Now, all that was needed is one piece of software to control audio recordings, MIDI sequences and virtual instruments. This sparked a move to more efficient home studios using modern workspaces for production.
The first DAW was Soundstream's Editing System (from 1978), followed by Digidesign's ProTools in 1989. These ran on proprietary hardware. As personal computers became more advanced, many new generations of DAWs were available; they had user-friendly interfaces and features like multitrack recording, real-time effects processing and offline editing. Now, over 20+ DAWs are accessible on many platforms such as Windows, MacOS and iPad.
In short: DAWs have become more powerful and flexible for working with sound recordings and digital media. They now offer a range of capabilities at affordable prices, so anyone creating quality music can do it without spending too much.
Factors to Consider When Choosing a DAW
When searching for the top DAWs for music production, consider several points:
What styles and genres do you want to craft? Different DAWs focus on different types of music production, so pick one fitting your tastes and needs.
Also, check device compatibility with the program prior to downloading. Will the program run on your devices and operating systems? If not, it might not be suitable.
Look at third-party plugins to enhance the program – some offer more usability or streamlined features.
Lastly, look at user reviews to identify which programs are preferred by experienced producers in your field or genre. Even if a DAW has good ratings overall but is rarely used in your niche, it still may not meet all of your needs. Choose a DAW with industry support for long-term success.
Operating system compatibility of DAWs
DAWs are compatible with certain operating systems. Before you buy one, check the compatibility. Here's a brief overview of OS compatibility for the best DAWs of 2023:
Ableton Live 10 runs on Mac, PC and Linux (with some limitations). It works on all versions of Mac (osx10.12 or later) and Windows (Win7 or later). It's very versatile.
Avid Pro Tools can run on Mac and PC. It supports all versions of Windows (Win7-Win10) and Mac Osx10.12 – macOS11 Big Sur. To use Pro Tools with Linux, you'll need a plugin hoisting system like FX Plug-In Suite by iZotope.
MAGIX Music Maker Plus works exclusively with Windows 7 and beyond up to 10 pro 64-Bit only editions. It's perfect for hobbyists and newcomers who want to create music fast.
User interface of DAWs
DAWs give users the tools to make, control, and save digital audio recordings. DAWs have different user interfaces that let producers customize the experience. It all depends on the software and plugins you use. You can customize your recordings however you want.
DAW interfaces vary from basic point-and-click to complex custom settings. Most DAWs have windows with a timeline or "tracks" to record. They also have modular settings to route the audio signal and use effects and parameters during mixdown or live shows.
The user experience depends on the layout and features. For instance, some software has easy settings that let you add EQs with clickable knobs and sliders. Others require setting up outboard gear with MIDI connections and routing internal submixes in your plugins. There are lots of virtual instruments, pedals, controllers, etc. released every year. So, it's important to choose the right interface to create an efficient workflow and take your creations to the next level.
MIDI capabilities of DAWs
DAWs can connect and control a range of external instruments, like synths and sound modules, using MIDI. Recordings of MIDI messages from these instruments can then be manipulated with graphical tools.
MIDI lets musicians route output from one instrument – e.g. a synth – into another – like the DAW sequencer. Many DAWs also have pre-programmed loops and samples that can be inserted into compositions. Plus, these samples can be processed with DSP.
DAW programs also allow for third-party plugins and instruments, like VST and AU. This gives producers access to an array of tools and effects for reshaping sound production. Plus, the plugins offer adjustable parameters for creativity.
Best DAWs of 2023
Keeping all of this in consideration, it is important to acknowledge that there are distinctive features of DAWs that could make them more advantageous for certain users, irrespective of their familiarity with the software's interface. Ultimately, the choice of DAW comes down to what you intend to accomplish with it.
While most DAWs are compatible with multiple operating systems nowadays, there are still some programs that only function on a particular platform. It would be unwise to purchase a copy of Logic Pro X, for instance, and try to install it on a Windows 10 system.
One would hope that no one would make such a shortsighted mistake. Wouldn't they?
Ableton Live
[button color="black" size="medium" link="https://www.ableton.com/en/live/" icon="" target="true" nofollow="true" sponsored="false"]OFFICIAL SITE[/button] [button color="black" size="medium" link="https://amzn.to/3FtqXqB" icon="" target="true" nofollow="true" sponsored="false"]AMAZON[/button]
Ableton Live is one of the topmost DAWs. It has a huge range of features and plugins, perfect for beginners and pros. There are three main types of tracks: MIDI, audio, and group bus tracks. The automation system helps users adjust multiple clips quickly. Auto-warping helps time-stretch audio recordings. It's simple to integrate external hardware devices with MIDI controllers and step sequencers, plus audio interfaces. Powerful effects racks and synths offer industry-standard sound manipulation.
Ableton Live also has excellent collaboration features. You can easily share projects with others, without compromising on sound or performance control.
Overview
Ableton Live is an awesome DAW for music production, composition and performance. Its intuitive workflows and powerful features help assemble ideas into songs with ease. This popular DAW has a rep for sound quality and real-time production.
Invented by Berlin-based Ableton in 2001, it has become an integral part of electronic music production. It offers cutting-edge instruments and effects to record sounds and perform live or in the studio. Its flexible automation features give excellent control over your tracks.
Live is perfect for novice and pro producers. It offers tools to quickly lay out ideas, plus layers of MIDI sequencing, control surface integration, multi-track recording and audio looping. Sample editing using Audition, compressor settings & EQ, plus effect plugins like Waves' plugin library are all compatible on MacOSX and Windows.
Ableton Live provides enough features to start any project. It's great for chopping up audio stems from existing records or making something from scratch. It encourages musical creativity too!
Features
Ableton Live is a top-of-the-line Digital Audio Workstation. It offers powerful tools for recording, mixing, editing and arranging multiple audio tracks. It also has a sophisticated MIDI editor, beat-matching system and sound-warping algorithms.
Some of the features are:
Multi-track recording – up to 64 audio & MIDI tracks, with effects & external processing.
Beatmatching – tempo & rhythm control, plus tone options like 'Kick', 'Snare' & 'Hi hats'.
Non linear sequencing – loop slicing, warp modes & automated slicing algorithms.
MIDI editor – program parts directly in the timeline with automation lanes.
Comprehensive library integration – royalty free samples, pre-produced sounds from world-top artists.
Pros and Cons
Ableton Live is a widely used DAW in music production. It has features like audio recording, MIDI sequencing and more. It also integrates with Dropbox, Google Drive and other cloud services, making file sharing easier. Consider these pros and cons before using it to revolutionize your music production workflow.
Pros:

Ease of Use: Ableton Live has a user-friendly design. Its help documentation helps users learn the software quickly.
Efficient Workflow: It offers an efficient workflow for producing tracks quickly. The Sessions View mode gives access to individual clips. Arrangement View mode lets you move between sections without losing track.
Integration with Third Party Software: Ableton Lives integrates well with third party software, allowing for easy collaboration and realtime audio workflows.

Cons:

Price: Ableton carries a hefty price tag, making it unaffordable for some creatives starting out or on a tight budget.
Learning Curve: It has a learning curve due to its functions being cloaked in one area. This can lead to a steep incline in understanding as opposed to other platforms.
Price
Ableton Live is a popular and powerful DAW. It comes in three editions: Intro ($99), Standard ($449), and Suite ($799). The Suite comes with more features than the other two. All versions come with unlimited audio and MIDI tracks.
Ableton's library has professionally crafted sounds from top sound designers. Plus, there are Packs available for purchase – individual samples, patches, instruments, effects packs, and more. Plus, there are add-on devices like Max for Live that increase workflow capabilities.
Choose the right version for your music production needs. All versions offer great features, so you can make professional sounding compositions without spending a lot.
User Reviews
Ableton Live is a well-known DAW. It's revolutionizing the music production industry, gaining a great rep among hobbyists, musicians, and pros. User reviews praise its workflow, design, and library of sounds.
Features like audio warping, MIDI routing, and automation functions have given it an edge. Plus, instruction files are small, so it's easy to install on any modern device and operating system.
The Ableton Suite's array of instruments is a great source for custom tracks. It helps engineers become more efficient and create high-quality tracks. Whether for a tiny bedroom project or a big soundstage session, Ableton Live is essential.
Logic Pro X
[button color="black" size="medium" link="https://www.apple.com/logic-pro/" icon="" target="true" nofollow="true" sponsored="false"]OFFICIAL SITE[/button]
Overview
Logic Pro X is a great choice for Mac users wanting to unleash their music production skills. It's a professional (DAW) that has lots of tools to help you mix and master your music with ease.
The graphical user interface lets you manipulate and layer tracks quickly. You can record with an external microphone, USB connection or direct guitar input. This makes it great for podcasts and backing tracks.
MIDI sequencing lets you jam anywhere with your own soundbank. The time-stretching mode ensures perfect timing with no sound quality loss.
Logic Pro X also has a library of loops for drums, basses, guitars and keyboards. The Logic Remote app on iPads can be connected over Wi-Fi or Bluetooth, so you can mix from any spot in the studio.
It's perfect for aspiring musicians on tight budgets looking for good results!
Features
Logic Pro X is an awesome DAW for both pros and amateurs. It has an intuitive design and powerful features for music production. Its tech ensures users can create high-quality recordings easily.
The features range from instruments to MIDI and audio effects, as well as recording, mixing, and mastering tools. It includes a selection of virtual instruments and sound collections. There's an user-friendly interface with track organization, automation recordings, and drag and drop functions.
Logic Pro X also offers live performance instruments like drum samplers and synthesizers. MIDI keyboards are supported so you can use the mouse or tablet to record performances directly. Plus, there are pitch correction, time stretching, tempo matching, and looping tools as well as pre-built plug-in effects.
Logic Pro X is great for producers who want to try new ideas, or experienced musical engineers looking for professional results. It's got everything you need to bring your music production ideas from start to finish.
Pros and Cons
Logic Pro X is a top-tier DAW. If you want to transform your music production, have a look at the pros and cons of the powerful platform.
Pros:
A complete set of pro audio tools for music production, like recording, editing, mixing, mastering, arranging, etc.
User-friendly interface and customizable.
Compatible with Macs and PCs.
Integrates with other creative applications, such as MIDI controllers and VSTs.
Over 2000 sounds and loops without additional download costs.
Excellent sound quality.
Nonlinear editing features, like beat mapping, elastic timing, and more.
Creative features, like velocity control and chord randomization.
Cons:
Expensive, because you need extra plugins or instruments for specific sounds and effects.
Can be complicated to learn due to its complexity.
Non-professional musicians could find it intimidating.
Helpful tutorials on YouTube to learn the features.
Price
Logic Pro X is a professional DAW for recording. It's pricey compared to other DAWs. In 2023, the cost for new users is $199 and upgrades are discounted to $99 for those who bought the software in 2020 or later. Loop Packs, Expansions and instruments can be bought from the App Store.
For those looking to save money, an educational discount is available for students and teachers. This includes the full version of Logic Pro X and content for only $99. The "Everything" bundle, with all previous purchases, is $899. There are subscription plans offering up to 24% off on Apple accessories like headphones and mics.
Price should not be the only factor when choosing a DAW. Think about your budget and preferences before deciding!
User Reviews
Logic Pro X has earned lots of praise for its intuitive design and high production quality. This DAW gives you professional tools and appeals to both experienced producers and new users. The real-time audio mixing engine can process up to 64 stereo tracks at once, with the option for 24 physical inputs. Its library of virtual instruments has an amazing range of sounds, from classic patches to modern synth presets and drum kits.
The track inspector has parameters like Pitch Correction and Saturation to customize your mix quickly. Plus, you can import multiple audio files at once or record MIDI performances directly onto a track, making it great for sample-based productions or electronic music creation.
With an easy learning curve and powerful features, Logic Pro X is a great choice for any music production experience.
FL Studio
[button color="black" size="medium" link="https://www.image-line.com/" icon="" target="true" nofollow="true" sponsored="false"]OFFICIAL SITE[/button] [button color="black" size="medium" link="https://amzn.to/3mPXdxn" icon="" target="true" nofollow="true" sponsored="false"]AMAZON[/button]
Overview
FL Studio is a powerful DAW, created by Image-Line software. It works on Microsoft Windows. It has an intuitive user interface for remixing quick audio and advanced composition options. It includes synthesizers, drum machines, sample-based content manipulation tools and sound effects to create high-quality music productions.
It is perfect for both beginner producers and experienced professionals. The DAW can modify data from multiple sources at once, up to 64 outputs. It offers control over every detail in mixing, mastering, looping and more. It also has unlimited undo/redo capability and a library of VST plugins. FL Studio is great for audio compositions and intricate mixes.
Features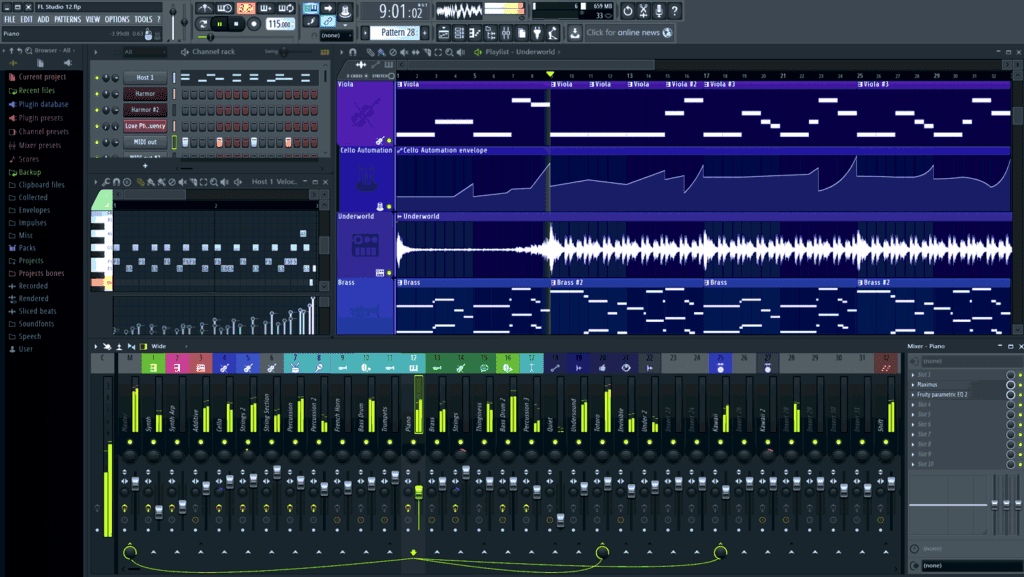 FL Studio (formerly Fruity Loops) is a complete music production environment. It is a DAW with a powerful and easy-to-use set of features. Users can create, mix, record, and arrange music without prior DAW knowledge or experience.
Features include:
Mixer with VST effect plug-ins, 64 insert effects per channel, parameter automation, and automation recording.
Synths, like Harmor and 3xOsc, with optional midi control.
Step Sequencers, with up to 4 assignable 16x16s and 64 automation steps.
Browser with multiple view types, including waveforms and zooming panel.
DirectWave Player & Soundfont Player with acoustic sound editor, multi instrument editor, channel properties page, and integrated instrument wave editor.
Edison & Wave Editor for sample editing, cutting, looping, reversing, and beat slicing with a "Draw" envelope editing mode.
Pros and Cons
FL Studio (formerly known as FruityLoops) is a DAW made by Image-Line Software in Belgium. It has become popular among music producers of all levels and genres due to its ease of use.
Pros of FL Studio include:
Quality transport panel with punch in/out options
Pre-installed instruments, like Synth and saw waves
Lots of effects, like reverb and delay
Full virtual automation control
Free life time updates
Compatibility with MIDI controllers.
Cons of FL Studio include:
No out-of-the-box support for audio signals from additional track sources, like analog inputs.
Impedance mismatch when connecting external DAWs or controllers, leading to poor sound quality.
Difficulty accessing mixer functions without a good MIDI controller.
In conclusion, FL Studio has great advantages, making it popular. But there are drawbacks which should be considered.
Price
FL Studio is a one-of-a-kind DAW. It is full of features and functions to make professional-level music tracks. There are 3 versions: Fruity Edition ($99), Producer Edition ($199), and Signature Bundle ($299).
Fruity Edition is great for those new to DAWs. It has basic sound design and sequencing with support for up to 99 audio clips.
Producer Edition adds more features like step sequencer automation, mixing boards, and unlimited audio clip support.
Signature Bundle gives users Version 3 of Sytrus synthesizer, additional plug-ins, sound libraries, and sample packs.
For those new to music production, it is best to try the free version first. Then upgrade to a paid version if it meets their needs.
User Reviews
FL Studio is renowned for its unique workflow, making it the go-to DAW for creating complex projects quickly and easily. It has a built-in sequencing engine and an intuitive user interface.
The latest version, FL Studio 2023, is packed with new features. These include a refined piano roll editor, an improved step sequencer, and more creative plugins. Plus, VST3 support and AU cloud hosting technology deliver greater control over sound design.
Reviewers love FL Studio for its versatility and user-friendliness. It's perfect for beginners and experienced producers alike. Plus, you can create awesome sounding songs without needing to code or use MIDIs. And it's great value for money. You can buy plug-ins separately, making it a great entry point for amateur producers.
Studio One
[button color="black" size="medium" link="https://www.presonus.com/products/Studio-One" icon="" target="true" nofollow="true" sponsored="false"]OFFICIAL SITE[/button]
Overview
Studio One (S1) is a powerful DAW. It's available for PC, Mac, and iOS devices.
The interface is flexible and customizable. This helps users create audio projects quickly and easily.
It also has a library of loops and other features like MIDI recording, automation tracking, drag and drop editing, virtual instruments, sound shaping tools, and time shifting.
Studio One is great for studios. It supports high resolution sample rates (up to 192 kHz). It also has a customizable mixing console, support for hardware controllers, full track freeze, and plugin hosting.
These features make Studio One stand out from its competitors.
Features
Studio One is a top-of-the-line DAW in 2023. It's designed to revolutionize music production with its powerful features. The user interface is intuitive and sleek, making it easy to get started on projects quickly.
Also, it offers:
A drag-and-drop sequencer for producing beats
An advanced sound engine for access to thousands of synths & samples
An audio editor for manipulating recordings and refining mixes
Automation for expressiveness
Multi track support for up to 128 tracks
Support for real-time plugins (VSTs)
Built-in instructions for getting the most out of each feature
Studio One is perfect for making professional level music in all genres. It has a custom toolset plus compatibility with other major DAWs. This makes it ideal for anyone looking to take their musical production to the next level.
Pros and Cons
The super-famous DAWs, Studio One, is a huge and easy-to-use music production tool. Even though it has its opposers, it is a strong platform and many music professionals have been giving it positive reviews. Let's discuss some of its pros and cons.
Pros:
Ease: With drag-and-drop, users can quickly make and modify sound effects, MIDI performances and audio recordings for professional grade releases.
Powerful: The DAW has excellent plugins, great sounds and the capability to manage virtual instruments with ease. Even beginner users can easily steer their creations.
Workspace: Both "dark" and "light" modes let users customise the look of their workspace. The dark mode is perfect for musicians recording or performing at night.
Cons:
Compatibility: Not all plugins work with Studio One 3 Pro or higher. Make sure to check compatibility before buying any plugins or other products.
Plugin reordering: Users cannot freely arrange plugins like they can in other DAWs. They have to use presets, reducing creativity.
Price: Most variants are around $100, but some may still find this price too high.
Price
Presonus Studio One is an industry-leading DAW. It was first released in 2009 and has become very popular. It's available on Windows and Mac, plus a free version. Pro and Artist versions start at $99.95. These are great for experimental or electronic music, popular music, hip hop, etc.
Pro version offers auto-tuning for vocal tracks, advanced multitrack recording and more mixing capabilities than the free version. Studio One has an intuitive UI, library of software instruments and effect plugins, advanced sync features and comprehensive mixing capabilities. It caters to all skill levels and budgets.
User Reviews
When selecting a DAWs for music production, user reviews can be helpful. Studio One is a popular DAW. It offers many features for home and professional studios. Its sound engine, editing functions, and support for VST instruments make it a great option.
Studio One is perfect for remixes and mashups. It gives access to orchestral libraries and MIDI tools like chord tool, arpeggiator, harmonizer, transpose chops, and groove locks. It also has effects like reverb delay, overdrive compressor, and EQs. Furthermore, mixer automation helps you control the levels of each parameter.
Users appreciate Office One's workflow efficiency. Thanks to Drag & Drop Editing, it reduces mixing time. Record automation makes complex overdubs quickly, and Undo/Redo improves editing accuracy. Also, specialized plug-ins such as Amp Simulator and Transient Shaper raise any project to world-class standards. User reviews of Studio One demonstrate its power. Without a doubt, it is one of the best DAWs today!
Cubase
[button color="black" size="medium" link="https://www.steinberg.net/cubase/" icon="" target="true" nofollow="true" sponsored="false"]OFFICIAL SITE[/button] [button color="black" size="medium" link="https://amzn.to/3FnTo9h" icon="" target="true" nofollow="true" sponsored="false"]AMAZON[/button]
Overview
Cubase, released by Steinberg in October 1989, is a DAW. It's been used to craft some of the biggest music hits! It's a powerful DAW, featuring audio and MIDI sequencing, beat-crafting and track automation tools. It provides editing, mixing and mastering features, making it a favorite choice for musicians, producers and sound engineers.
Cubase helps you create studio-quality music quickly and easily. Its workflow facilitates optimal speed, while managing complex audio operations. Plus, its advanced technology automatically adjusts all processes according to project needs, thus helping you create professional sounding mixes with minimal effort.
Cubase makes it easy to express your musical ideas! It has deep integrations with devices such as VST instruments and controllers, making flawless musical performances possible right away. Moreover, its MIDI editing tools enable you to edit fast without tedious tasks – great for creating complex tracks or experimenting with sound design promptly. And, if you need any extra software, Cubase Pro has an integrated Plug-in Bridge, allowing you to expand your possibilities quickly and easily!
Features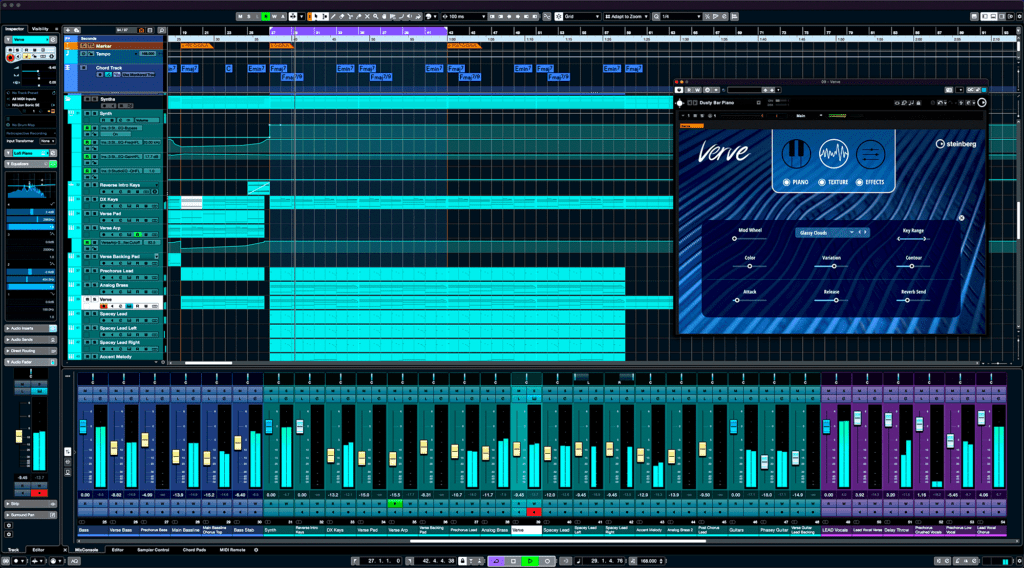 Cubase is a super popular DAW for music producers. It has great features to help speed up recording, mixing, and mastering. Here are the top features that make Cubase stand out:
Record multi-channel audio with ease. You can also use industry-standard sampling rates and bit depths.
A mixer with 10+ channels and customisable signal routing.
Advanced MIDI editing capabilities – you can make real-sounding drums, strings, pianos, and more.
A big library of virtual instruments – electric pianos, acoustic instruments, drum machines, synths, and more.
Mixing abilities – experiment with over 70 built in plugins and VST3 synths.
A complete automation system – automate parameters to create complex sonic textures or arrange tracks easily.
Cubase is the perfect choice for modern music producers who want to take their music up a notch!
Pros and Cons
Cubase is a top-notch DAW. It can transform your music production. Pros trust it for its great features, smooth workflow, and versatile range. If money's tight, Cubase Pro 10 is the most economical option. For those wanting the full package, there is the Cubase Pro 10 plus Studio Edition.
Cubase has plenty of virtual instruments and effects plugins. You can easily craft any sound you want. It comes with looping, midi sequencing, routing to hardware/software instruments, hardware controllers, and its mixdown engine lets you automate realtime effects. Here's a quick look at its pros and cons:
Pros:
Flexible signal routing
Wide selection of virtual instruments and effects
Intuitive workflow
Realtime mixdown engine
Stability and reliability on different OS
Cons:
High learning curve
Limited user support from Steinberg
Extra purchases for certain features
Fewer bundled features than other DAWs
Price
Steinberg's Cubase software prices vary. The basic version, Elements, is $99. It has MIDI editing, audio recording, and VSTi/VST 3 for playing multiple instruments at once.
The next version up is AI 11. That's $279 and comes with a virtual mixer, automation tools, and AI production tools.
Cubase Pro 11 is for pros. Get all the features of Elements and AI plus soundbanks, groove agent SE 4 software instruments, cubasis vst Instruments Collection 2020 edition, and physical controller support. This one is $559.
For large-scale projects, there's Nuendo 10 ($899). It has up to 6200 tracks and direct offline processing or FX chain integration into multiple audio channels.
User Reviews
Cubase is a powerful, feature-rich DAW for music production. It has advanced MIDI and synthesis technologies, as well as loop and tempo control capabilities. Plus, its expansive library features, like vocal processing, make it perfect for all music producers.
For beginners, Cubase is user-friendly. A customizable tool palette feature allows users to create their ideal work space quickly. The addition of VST plugins and crossgrade options makes the DAW experience comprehensive.
Cubase is a complete solution in modern music production. It contributes audio editing, mixing capabilities and notation tools. These give musicians full control over every element of a track. From transposition editing to virtual instruments, it provides musicians with great GUI manipulation options.
Reaper
[button color="black" size="medium" link="https://www.reaper.fm/" icon="" target="true" nofollow="true" sponsored="false"]OFFICIAL SITE[/button]
Overview
Reaper is an innovative DAW. It's developed by Cockos Incorporated and offers powerful features at an affordable price, making it one of the most popular DAWs.
This intuitive yet flexible software is suitable for a wide range of tasks, such as songwriting, audio recording, scoring for film and TV, podcast creation and live performances.
Reaper's features give users complete control. They can record multiple tracks with no latency, apply real-time sound processing effects, cut and slice audio samples, and even incorporate virtual instruments into the project.
Reaper has an integrated autofilter section and automated recording functions. Plus, producers can create custom shortcuts for their favorite plugins and parameters.
Its flexibility allows users to customize projects in many ways. It supports multiple VSTs and AU plugins. Its mixer routing options make it easy to edit multiple tracks. And automation controllers provide control over mix parameters.
Finally, there's an optional rack instrument library included with software updates. This expands creative possibilities when producing music with Reaper in 2023.
Features
Reaper is a super-powered DAW. It has an easy-to-use interface and provides producers with top-notch tools for quality recordings. Here are its best features:
Multitrack Recording – Record multiple tracks at once with low latency for smooth editing.
Advanced MIDI Editor – Tweak your recording with precision using advanced MIDI editing.
Built In Loop Library – Create awesome music with the built-in loop library.
Automation & Effects Processing – Make dynamic mixes with automation controls like volume, pitch, and panning.
Media Browser – Add audio files from the media browser.
Extensive Plugins Selection – Get third party plugins like EQ, compressors, and more!
Pros and Cons
Reaper is widely used by pros and amateurs alike. It's well-known for its production capabilities and feature set. Powerful tools, user-interface customization, varied automation options, and an integrated midi editor make Reaper the perfect pick for anyone who wants to upgrade their music production workflow.
Reaper has many pros that make it great. Here are some of them:
User-Friendly: Reaper is easier to learn and use than other software like Logic Pro or Pro Tools. Its user interface is easy to understand, even if you're a beginner.
Lower Cost: The regular license is $60 USD, but with an educational institution or proof of commercial use, you can get it for only $40 USD. That's much cheaper than other DAWs that require extra subscription fees.
Fantastic Functionalities: Even though it has fewer built in plug-ins than other software, Reaper offers great features. Native pitch correction functions, advanced Automation envelopes, and support for multiple audio file formats like WAV, AIFF, FLAC, and MP3 make it easy to mix records from different sources.
There are some cons to Reaper too. Consider them before you buy:
Plugins Options: It might not have the plugins you need for certain projects. Plus, some of the available plugins might not have as many features as the ones from other DAWs.
Incompatible Platforms: Reaper only runs on Windows computers. That could slow down your development if you need access to different platforms for bigger projects.
Price
Reaper is a DAW released by Cockos Incorporated in 2005. It's an affordable choice – only $60 per license. Or, for bigger projects, $225 for an individual license. Plus, no limits on installs! Reaper is constantly kept up-to-date and has built-in tools for all-year audio production. It also has version control, so users can keep track of their changes.
Plus, user-friendly features like drag-and-drop and easy MIDI programming, so aspiring producers can make great sounds without learning complex concepts like music theory or coding.
User Reviews
Reaper has been the talk of the town in the music production world! It's user-friendly interface, powerful features, and budget-friendly price makes it a great choice. The Lite version has limited features yet still runs after the trial period ends. The Full version gives access to features such as MIDI Editing, Audio Warping, Time signature changes & Track Splits.
Producers love Reaper for its intuitive UI. Instead of relying on menus, it's got big buttons with direct access to Track & Record arming. Plus, key commands make audio editing faster. And, different waveform display views with varying color palettes help distinguish waveforms across tracks.
Reaper is perfect for recording voice overs, podcasts, music production, or film scoring. You can create amazing projects without spending too much money. In short, Reaper is the ideal choice to revolutionize your music production this year!
Bitwig Studio
[button color="black" size="medium" link="https://www.bitwig.com/" icon="" target="true" nofollow="true" sponsored="false"]OFFICIAL SITE[/button]
Overview
Bitwig Studio is a powerful and popular DAW. It's well-known for being an intuitive and feature-packed music production application. It can give you the tools to make any type of audio project. Whether you're a professional or an amateur, Bitwig Studio has what you need.
Multi-monitor support and a built-in mixer provide control over levels and blend settings.
Plus, the patented Direct Note Access (DNA) technology lets you edit MIDI melodies without leaving the program.
Virtual instruments and effects are included too.
Bitwig Studio also offers session automation, time stretching, MIDI routing, workload optimization tools and more. It's easy to begin creating music with helpful tutorials and an emphasis on freedom. It's one of the best DAWs currently available.
Features
Bitwig Studio is one of the top DAWs. It has features to help producers create, record and mix music. Here are some of them:
Audio In/Out: Import audio from different sources. Export in many formats.
Editing Tools: Piano roll editor, synthesis tools, effects like reverb and chorus processors.
Track Data: Graph Editor to connect audio and MIDI connections.
Real Time Display: BeatTime Display for syncing with other DAWs or hardware.
File Browser: Search project library, drag files into tracks, reorder inside the app. No need to open folders.
Pros and Cons
Bitwig Studio is a powerful DAW. It's made for musicians and producers who create music for film, record albums, perform live, or make beats. It's easy to manipulate audio and mix, with many effects to craft unique sounds.
Pros:
Simple interface with sound creation tools.
Advanced Arranger view and flexible routing.
Supports many genres and styles.
Cons:
Steep learning curve.
Lack of third party integration.
Price
Bitwig Studio is a DAW, made by musicians, producers, and sound engineers. It's great for music production and comes in multiple price points.
Standard version is $399. It has unlimited audio tracks, VST instruments/effects, automation, slicing & layering tools, unlimited project slots/arrangers, VCA faders, and modulation mapping.
Upgrade version is $179 and adds MIDI Out support and the Modular Expander.
Pro version is $799. It includes all Standard + Upgrade features, Max for Live integration, Sound Content Packs with lots of loops & samples, and Mixer FX integration for powerful processors like EQs & Compressors.
User Reviews
Bitwig Studio is a renowned DAW. It has won the hearts of many users with its powerful and user-friendly sound design. Since 2014, it has been used to create music, audio productions, and films.
It's known for its intuitive workflow. Creative modulation is simple, plus a reimagined piano roll allows for perfect melodies. It's one of the best performance-oriented DAWs available. Its split view gives overview of all parts of a project. Audio Track Layering simplifies multi-track mixing. And Clip Launcher brings dynamic performance.
But that's not all! Automate multiple virtual devices within each track. Use clip quantization options in flexible arrangement modes. And customize workspace with external devices.
Bitwig Studio is praised for its vast sonic palette and reliable stability. It's a top choice for serious musicians!
GarageBand
[button color="black" size="medium" link="https://www.apple.com/mac/garageband/" icon="" target="true" nofollow="true" sponsored="false"]OFFICIAL SITE[/button] [button color="black" size="medium" link="https://apps.apple.com/us/app/garageband/id408709785″ icon="" target="true" nofollow="true" sponsored="false"]APP STORE[/button]
Overview
GarageBand is Apple's audio production suite. It helps users to easily create and collaborate on musical ideas. This software provides powerful features to record, edit, mix, and share high-quality songs. Its slick design and impressive library of instruments make it easy to produce professional-sounding music without spending a lot. Plus, it has a variety of loops from all genres to enhance your productions.
Many producers use GarageBand due to its intuitive design, powerful features, and affordability. Beginners as well as experienced professionals find it an excellent all-in-one DAW solution.
Features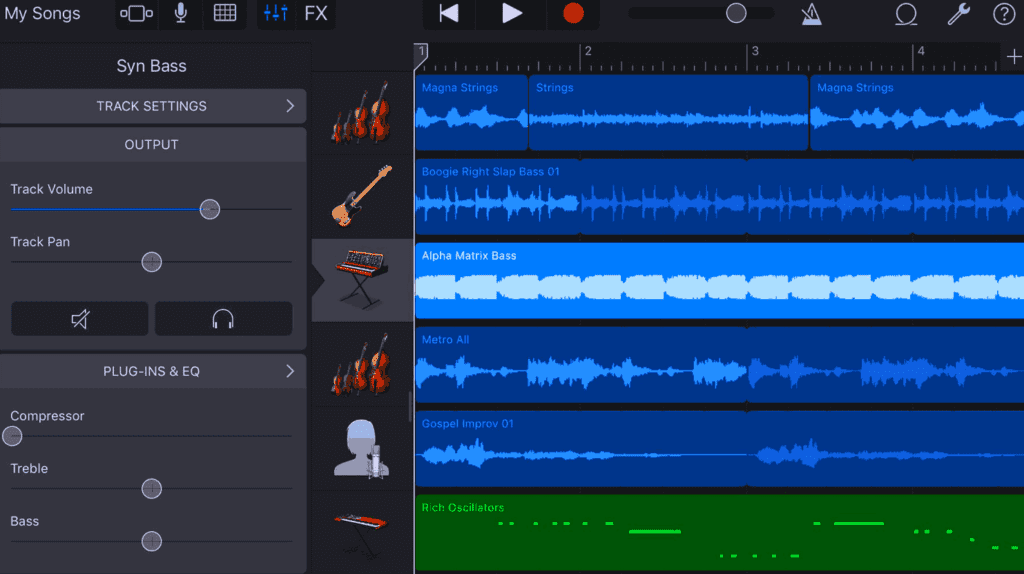 GarageBand is a top-notch Digital Audio Workstation (DAW). It's made by Apple, making it perfect for songwriters, producers, and artists. It comes with many features. Here's what it offers:
Full DAW with musical instruments like synths, samplers, drum machines, and bass guitars.
Intuitive interface and sound shaping tools like EQs, compressors, and limiters.
Compatible with third-party plug-ins like Audacity VST from Steinberg's Cubase/Nuendo DAW.
Works with Apple products like Logic Pro X.
Touch Bar support for Macbook Pro.
MIDI sequencing so you can create drum and melodic patterns in GarageBand.
Comes with loops from top producers.
Can connect to external hard drives and USB devices.
Pros and Cons
GarageBand, an Apple Inc. developed best digital audio workstation (DAW), is widely available. It offers users a simple and efficient way to craft music, and has been used by music makers of all levels for more than a decade.
Pros:
Over 1,000 instruments, from synths to drum kits
Audio effects library
Smart Controls to adjust track levels
Choice of guitar amp sounds
Easy-to-use interface
Affordable compared to other DAWs
Cons:
Limited customization due to being Apple-specific
No vocal editor without plug ins
Missing innovative features, eg. automation envelopes
Too simple for experienced producers needing powerful mixing options
GarageBand can help you create music quickly and easily. Consider the pros and cons before investing your time in it. However, overall it is a great choice for beginners or those who just want something basic.
Price
GarageBand is a wildly popular Digital Audio Workstation (DAW). It runs exclusively on Apple's macOS and iOS systems. It offers users tools to record, compose and mix, creating professional recordings. It's the go-to choice for millions of producers thanks to its user friendly interface and workflow capabilities.
The free version of GarageBand is available in the Mac App Store. It has access to thousands of sounds and loops. Producers can mix unlimited tracks as part of their project. With GarageBand's 'Live Loops' feature, producers can record multiple tracks while listening in real-time via headphones or monitors. It also has a loop loom Stave Viewer to create song arrangements.
For more instruments and effects, producers can purchase GarageBand Pro for $4.99/month subscription. It's also available as part of Apple's Creative Suite bundle for $9.99/month subscription plan. For extra support, producers can buy AppleCare+ which provides technical support and post-warranty repairs.
User Reviews
GarageBand is Apple's premier music production software. It revolutionizes recording and producing for amateurs and professionals. Its versatility, intuitive design, and user-friendly interface make it perfect for anyone.
The software comes with all the basics. Track editing tools, loop libraries, virtual instruments, and more. Some iPad versions include drummers. They give instant accompaniment as you record. You can experiment in live web sessions.
The best part of GarageBand is the user reviews page. Established users rate the powerful musical toolset. Hundreds of reviews from producers show how they used GarageBand to create their own masterpieces or tweak recordings. Reviews help you decide which functions you need. They also show any flaws in certain versions. Garageband's user reviews are invaluable in your music production journey.
Choosing the Best DAW for You
Choosing the best Digital Audio Workstation (DAW) can be tricky, based on the type of music you create and the options you need. Here are key points to bear in mind when looking for a DAW that suits your needs.
Firstly, think about the kind of music you plan to produce. Electronic? Acoustic? Jazz? It's essential to pick a compatible DAW for the best production experience.
Next, compare the number of tracks or stem mixers in the DAW packages. More tracks means more sound manipulation or production flexibility. You should also check for features like compatibility with outboard hardware, multi-band plugin customization and external instrument support.
Consider MIDI mapping capabilities and the ability to control multiple audio hardware units from one central location too.
Finally, pricing is important. Many popular software packages are expensive but offer powerful tools to maximize sound quality. Look for performance and scalability over time as your musical skills develop.
Taking these key points into account will help you pick the right DAW, meeting your requirements and optimizing sound quality and production performance.
Consider your needs and goals
Take a pause and consider what your music production needs and goals are. Think of the type of music you'd create, as well as processes for capturing, mixing, and mastering. The right Digital Audio Workstation (DAW) depends on its features and budget.
Here's how to guide your decision:
Budget: Consider how much you'd pay for a DAW, plus future costs like plug-ins and audio hardware.
Compatibility: Ensure the software works with the OS and hardware you'll use.
Flexibility & Customization: Look for one that lets you make modifications, adjustments, and additions.
Feedback/support system: See if there are forums/communities dedicated to your chosen brand. They can give ideas, suggestions, and technical support.
Try before you buy
Choosing the right music production software is essential. To be sure you get what you need, try it before you buy it! Most DAWs offer demo versions or free trials for users to test out the features before investing in the full version.
It's important to know that everyone's needs are different, depending on the type of music they make. Trying out trial versions and comparing them will help you decide which platform best fits your creative needs.
You can find overviews, ratings and reviews to help narrow down your search, but nothing beats actually trying out a DAW firsthand. It's up to the individual producer to decide which platform suits their needs best!
Consider tutorials and educational resources
Digital audio workstations (DAWs) are becoming simpler and more user-friendly. But, before you start producing audio, look into tutorials and educational resources. There are lots of free webinars, YouTube channels, tutorials, and guides to help a producer learn the ins and outs of a DAW. With some research, you can find content to teach you the basics and more advanced material.
Getting to know the basics of these programs is key. This includes things like editing audio files, setting up virtual instruments and plugins, and arranging tracks. Depending on your skill level or if you're completely new to music production, exploring tutorials can help you use DAWs better in 2023.
Recap of important factors to consider
Deciding on a DAW involves numerous factors. Compatibility, features, cost, and user-friendliness can shape the music production process.
Compatibility ensures the software works with your current machine.
Features let you record audio, MIDI sequence and format scores.
Cost affects affordability and audio quality.
User-friendliness facilitates navigation, control surface support and automatic adjustment of pop-up messages.
Picking the right DAW is vital. It should follow industry standards and be tailored to you. Consider compatibility, features, cost and user-friendliness for the best setup.
Summary
Music production in the modern industry needs software that can create, record, mix, and master. There are so many DAWs (Digital Audio Workstations) to explore, but this guide pinpoints some of the finest for 2023.
Ableton Live 10 Suite is worth looking into. It's simple yet powerful and it has loads of effects, sounds, and instruments. It also has advanced features such as auto tempo detection and quantizing.
For those who want something a bit cheaper, Reaper is great. It has a huge user community with a lot of resources to help with recording and mixing.
Professionals in post-production should go for Pro Tools 12, as it's reliable and industry-standard. But creative producers may not find it flexible enough. If you're on a budget, Audacity is a great free solution for starting out or quickly cleaning up vocal recordings.
The best DAW software is for you depends on your needs. If you're serious about music production as a career, it's worth investing in an Ableton Live 10 Suite or Pro Tools 12. That way, you'll be well equipped and it won't cost a fortune. With these top-notch software solutions, you can revolutionize your music production process!
Final thoughts
Choosing the right DAW is essential. Ask yourself: which one has the features you need to reach professional-grade standards? There are 2023 DAWs on this list, with something for everyone. Automation setups, audio editing, mixing options and plugins – you name it!
Do in-depth research before purchase. Investing time in research can make a difference in achieving that perfect sound. Price and trends shouldn't be the deciding factors. Find software that helps you bring out the best beats in unexpected ways.
Try before you buy; most software offers free trials. That way, you know what to expect when investing in one of these options!
Frequently Asked Questions
[toggle title="
Q1: What is the best DAW of 2023?
" state="close"]
A1: The best DAW of 2023 is FL Studio, which offers a comprehensive music production experience. It has powerful tools for sound design, composition, mixing, and mastering.[/toggle] [toggle title="Q2: How can I use a DAW to revolutionize my music production?" state="close"]
A2: Using a DAW can revolutionize your music production by giving you access to powerful tools and features that can help you create professional-sounding music. You can use the editing, mixing, and mastering tools to fine-tune and enhance your tracks.[/toggle] [toggle title="Q3: What features should I look for in a DAW?" state="close"]
A3: When looking for a DAW, you should look for features such as a comprehensive library of sound design tools, a wide range of effects, an intuitive user interface, and compatibility with other software and hardware. Additionally, make sure that the DAW is compatible with the type of music you intend to produce.[/toggle]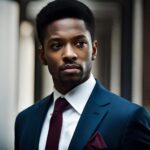 Hi, my name is Pallav, and I've been playing the piano for over 20 years. I'm also the proud owner of Digital Keyboard Piano, an online platform where I share detailed reviews of the latest MIDI controllers, digital pianos, and related equipment.