The Roland FP-10 is a portable digital piano aimed at beginner and intermediate players. Released in 2018, it offers many features at an affordable price point.
After extensive research comparing digital pianos in the $500-600 price range, I decided to purchase the Roland FP-10.
This review gives an overview of the features and capabilities. Beginners and pro musicians can use it to decide when buying the instrument confidently.
We'll explore the sound engine and various functions. This gives an insight into what the digital piano offers.
Also, we'll list some tips. These will help you get the best performance from the Roland FP 10 with your chosen style.
Roland FP-10 Specs
The Roland FP-10 is a great digital piano for both beginner and advanced players.
It has 88 fully weighted keys with a PHA-4 Standard Keyboard for an authentic playing experience.
You can choose from 5 different touch sensitivities, and the sound of the SuperNATURAL Piano Sound will make you feel like you're really playing a grand piano.
The Dual Mode lets you play side by side with another musician, the Duo Mode creates a twin piano effect, and the Split Mode lets you divide the keyboard into two zones.
There are 17 preset songs and 15 demos to get started with, plus the Metronome, Transpose, and Fine-tuning features let you customize your settings however you want.
The Bluetooth 4.0 connection lets you stream music wirelessly from your smartphone or tablet, and the Headphone jack (3.5mm, 1/8″) gives you privacy when practicing without disturbing others.
At just 12 kg (27 lbs), it's lightweight enough to take anywhere with you, and the dimensions of 128.4 x 25.8 x 14 cm (50.5" x 10.1" x 5.5") make it easy to find a place to store it when not in use.
Why I Chose the Roland FP-10
The FP-10 appealed to me for several reasons:
Affordable price – At around $500, the FP-10 fits my budget as a hobbyist pianist. More expensive digital pianos didn't seem justified for my needs as an amateur player.
Portable design – Weighing only 27 lbs, the FP-10 is easy to move around my house and transport in the car for piano lessons or band practice. I don't have space for a full cabinet piano.
Authentic feel – The weighted keys with escapement and textured ivory feel provide a very realistic piano playing experience that suits my classical and jazz interests.
Bluetooth connectivity – I like being able to connect wirelessly to music apps for additional sounds and features.
Roland reputation – Roland is known for making high-quality digital pianos, so I trusted the FP-10 to be a good value at this price point.
Overview of the Roland FP-10
The Roland FP-10 is a stellar digital piano! It's perfect for both beginners and pros alike. It has 88-weighted keys plus a host of sounds and effects to explore. Plus, it has a USB connection for connecting to your computer. MIDI and other software can be used with ease.
Now let's dive deep into the Roland FP-10 to understand why it's so popular!
Design
When I first laid eyes on the Roland FP-10, I was immediately drawn to its sleek, minimalist design. Its compact size made it perfect for small spaces and easy to transport. However, I couldn't help but notice the somewhat plasticky elements in its construction, which detracted from the overall appearance. The lack of a built-in stand was also an inconvenience, as I had to purchase one separately.
The FP-10 comes in a package full of surprises, sporting an eye-catching slim design. Not only is it aesthetically pleasing, but with its lightness and portability you can take your music wherever life takes you – from the comfort of your own home to living room jam sessions or hotel rehearsals! In addition to this bundle's superior sound quality are handy extras like a power chord, footswitch and adjustable music rest for extra ease on stage or at home.
The Roland FP-10 digital piano is a great choice for everyone – from novices to experts! It features a sleek matte black or white design with a curved lid and 88 weighted keys with Ivory Feel-G Keyboard technology. The SuperNATURAL Piano tone generator provides realistic sounds in every register. Plus, you can adjust parameters like Touch, String Resonance and Damper Resonance for even more expressive control.
Onboard DSP effects can enhance your performance with reverb, chorus, or two delay effects. Regarding connectivity, it has USB to host, allowing you to connect the FP-10 to a computer or other music device. Plus, two stereo audio outputs and an adaptor for a consistent power supply.
You don't have to drop a ton of money to get an impressively slim, lightweight digital piano. The FP-10 packs remarkable quality into its 10.15" depth and 27 lbs frame – not to mention the high grade key action that comes included! And if you want even more compact options for your home or studio setup, check out the Casio PX-S1000 and PX-S3000, less than 9 inches deep.
Optimize your music experience with the Roland FP-10 and FP-30 digital consoles. On top of each console, you'll find four buttons: ON/OFF, Volume up & down, plus a Function button for selecting sounds and effects. With the FP-10's streamlined navigation system – hold down to Function Button while pressing specific piano keys associated with necessary functions – it's never been easier! For an even broader range of control over how you customize soundscapes or composition styles like jazz improvisation or rock orchestration, choose the feature-packed Roland FP 30, boasting twice as many buttons as its predecessor.
Keyboard
As I started playing the FP-10, I found the PHA-4 Standard keyboard action quite impressive, providing an authentic touch and feel. The keys had an ivory feel that offered a good grip while playing. Unfortunately, I was distracted by the noisy key action, especially during quiet passages.
The FP-10 houses the PHA-4 Standard key action, which is Roland's most cost-effective hammer mechanism. But don't be mistaken – this top-of-the-line building block gives you a realistic playing experience for under $1,500! You can find it in other high-end digital pianos, such as the FP-30 and 60 giving everyone access to an unparalleled range at any price point.
The PHA-4 Standard is the perfect way to recreate an acoustic grand experience at home authentically. Its 88 fully weighted keys with unique escapement mechanism give a realistic clicking sensation when half pressed, just like on an actual piano. The Progressive Hammer Action means each key has been individually weighted – heavier in lower registers and lighter up top – for maximum realism and comfort during playing sessions. Plus, moisture-absorbing Ivory Touch adds extra control by providing better grip on plastic keys that look as good as they feel!
The PHA-4 Standard's keys provide a realistic resistance, offering an easy and responsive experience. It doesn't feel overly clunky or loud when playing compared to its contemporaries in the same price range. My fingers have also deemed this action slightly heavier than similarly priced models like Casio's PX-160 and Yamaha's P45; additionally, I found the key pivot point of FP 10 was longer, which make playing at the back end of each note more comfortable.
Whether you are looking for a gentle, light touch or the strength of a heavy hammer hitting keys on an acoustic piano, the FP-10 has something to offer. Its keyboard can adjust sensitivity from Super Heavy to Fixed settings – five in total – and gives users natural reactions depending on how hard they play. The realistic MIDI qualities make it stand out amongst other digital keyboards at this price range, making it suitable for experience-level players who want superb sound quality without breaking their budget!
Sound
Roland's FP-10 sound engine uses their award-winning SuperNATURAL tech. It faithfully recreates the tones of two iconic acoustic pianos – Steinway D and Bechstein D. Plus, it has 30 onboard sounds. The Piano Partner 2 app allows you to explore more options with classic tones from music legends.
The sound of the FP-10 is clear and vibrant. The tone damper resonance system accurately recreates the string response of an acoustic piano. Plus, the 96-note PHA-4 Standard Keyboard has superior touch sensitivity. This allows expressive performances, like on a grand piano – even at low volumes.
Roland's renowned SuperNATURAL sound engine powers the FP-10 and can be found in many digital piano models for a superior listening experience.
For those seeking a top-notch digital experience, the FP-90 and HP-603 offer fully modeled sounds for total authenticity. On the flip side, entry-level instruments like the FP-10 feature sampled piano tones with light modeling – perfect for budget-conscious shoppers!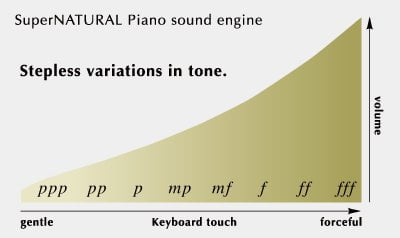 [box type="shadow" align="left" class="" width=""]
There are 15 built-in sounds on the FP-10:
4 Grand Pianos
2 Electric Pianos
2 Organs (Jazz, Church)
2 Strings
2 Harpsichords
Vibraphone
Jazz Scat (which is a lot of fun)
Synth Pad[/box]

Whereas the FP-30 has 35 internally loaded sounds, connecting it to Roland's Piano Partner 2 app lets you unlock a much wider range of tones – all the ones that come with its bigger brother. It's an awesome addition for those lookin' to get more out of their instrument!

The FP-10 is well renowned for its realistic 1st Grand Piano tone. It has a rich, resonating sound that mimics the authentic timbre of an acoustic piano and boasts simulated sympathetic string resonance and key-off resonance to make it more organic in feel. With these features baked into the instrument at no extra cost, you won't have control over them but will enjoy their beautiful effects when playing notes together on the same overtone series!

The FP-10 offers a range of remarkable-sounding piano tones that will suit any music genre! From the subtle key-off resonance when notes are released to slightly modified versions providing mellower or brighter tones – you're certain to find something perfect. Plus, with some easy tweaking available on the main tone you can customize it even further and make it truly your own. Experience these magnificent sounds yourself by taking a listen now – enjoy!

The FP-10 and FP-30 both provide great piano sounds, but how you can experience them is quite different. The former has a 0 to 10 range for Ambience and Brilliance settings, making it simple for users to find their ideal tone. Meanwhile, the latter gives three levels of adjustment in its Brilliant setting and five options in terms of ambience so you get more versatility when honing your soundscape! Yet despite this difference between the two models – if listened to through headphones, they will create identical experiences due to having the same playback recordings… But as soon as speakers come into play, there's now an extra element at work on the larger 11W x 2 models (compared with 6W x2)!

The sound quality of the Roland FP-10 truly impressed me, with Roland's SuperNATURAL Piano sound engine delivering rich and dynamic piano tones. However, the built-in speakers left something to be desired, as the lower frequencies lacked depth and clarity. I found using external speakers or headphones significantly improved the sound quality.

Speakers

The Roland FP-10 boasts two 6-watt speakers that, although small in stature (4 ½ inches), provide powerful sounding output. When playing at home or rehearsing alone, these compact but capable drivers deliver the volume you need without disturbing the neighbors – and when more discretion is desired they make a great match with headphones!

Despite its unique design, the downward-facing speakers found on the FP-30 produce a surprisingly clear sound. Its two-times more powerful speaker system than some other models doesn't make much of an audible difference in practice.

Polyphony

The FP-10 boasts a generous 96 notes of polyphony, enough to handle almost any complex classical piece without compromising sound quality. That's more than what you might find in entry-level digital pianos – most have between 64 and 128 notes – so it's great for aspiring musicians!

With 96-note polyphony, the FP-10 provided ample room for complex playing and layering of sounds. This was more than enough for me, but I could see how more advanced pianists might desire additional polyphony when using the instrument's various features.

Features

The Roland FP-10 digital piano boasts various features for beginners and experienced users. This 88-key portable piano comes with a vast selection of sounds, customizing controls, and a powerful built-in stereo speaker system for any situation. It provides a complete classical pianist experience with Rolands SuperNATURAL Piano Modelling Technology which captures acoustic nuances and a graduated hammer action keyboard.

The soundbank holds hundreds of timbres, from sampled grand pianos to vintage organs. All these sounds can be modified with various onboard effects such as chorus and reverb. Twin Piano Mode lets you split the keyboard into two identical zones for better musical expression.

Dual Mode takes keyboard playing to the next level by allowing you to layer two sounds – enabling one keypress to produce an exciting new sound! Create rich and diverse tones, perfect for any song.

With the Roland FP-10, you can explore captivating soundscapes by blending instruments such as piano and strings or bass with a cymbal. To further unlock your creativity, use its companion app Piano Partner 2 to adjust volume balance between tones and activate 'Twin Mode,' where the keyboard is divided into two smaller pianos – each covering 44 keys! This feature could be immensely helpful for teaching purposes too.

The FP-10 also has recording capabilities via USB or Bluetooth connection. You can create tunes without leaving your living room. It's compatible with GarageBand, Logic Pro X, and more – perfect for producers! And its battery-powered design lets you take it anywhere.

I appreciated the Roland FP-10's decent set of features, including a metronome, transpose function, and Twin Piano mode for duets or lessons. The Piano Partner 2 app added extra functionality and control, which I found useful. On the other hand, I was disappointed by the lack of a built-in recorder and a more extensive range of instrument sounds.

Authentic sound

The Roland FP-10 is a popular digital piano. It boasts SuperNATURAL sound engine technology that accurately replicates the grand piano sound and hammer action. Plus, it offers 96-note polyphony and other high-quality tones like strings, electric pianos, and organs. These sounds are top-notch imitations that sound exactly like the real instruments. This makes the FP-10 great for solo playing and composers looking for creative inspiration.

Compact and lightweight

The Roland FP-10 is a great pick for beginners and experienced musicians. It's compact and light, perfect for travelling musicians. This slim design fits in tight spaces – ideal for those saving space in their home studio or practice room.

The FP-10 has 88 full-size keys with adjustable sensitivity. It covers the range of an acoustic piano without compromising sound quality. Its intuitive user interface makes accessing features, tones, and functions easy. You can even save multiple voices onto the instrument with its powerful Effects engine. Perfect for musicians wanting a unique sound!

Affordable

The Roland FP-10 is a great deal! It has weighted keys and a metronome, so it stays stable. Plus, it works as a controller for music production software. It's great for beginners and pros! Its size and design make it more convenient than other models.

Some bundles include a stand and accessories like headphones. It's an awesome value at a good price.

No onboard recording

The Roland FP-10 doesn't come with recording capabilities. So, to record on a computer, you'll need an audio interface or external recorder. This isn't unusual for digital pianos and keyboards in this price range. But, some people may find this disappointing. To record music with these items, you'll also need cables. This can take time and money.

Consider the Yamaha P125 digital piano or the Casio 88-key Privia series if the recording interests you. These offer recording features onboard.

Connectivity

The Roland FP-10 is a top digital piano for newbies. However, it does have some drawbacks. Its connections are limited. It has dual headphone jacks and a USB to host function, but it's not as many as other digital pianos. The only way to extend connections is via MIDI ports. You can link to controllers and analog devices like drum machines or synths with them. However, to use computer software, you'll need extra hardware. Like an audio interface or sound module.

The Roland FP-10 digital piano is the only model in its price range to feature an audio pedal jack and a mini headphone port, which can be used as a line out. This may not seem like an advantage until you consider that two people cannot simultaneously use headphones on this instrument—unless they have access to their own splitter! But don't despair: it has something even better – Bluetooth connectivity so music makers can still connect wirelessly with compatible smart devices while utilizing MIDI data exchange capabilities.

It's great for novice musicians beginning their journey. Yet, it may not have the connectivity options for more advanced features such as sound production and recording. Plus, these could come with extra cost, depending on the type of hardware needed:

Audio interface
Sound module

After setting up your Roland FP-10, the final step is to connect it to an A/C power source. It's important to note that the piano will automatically turn off after a certain period of inactivity, causing any unsaved settings to be lost. To avoid this, save your settings using the Memory Backup function if you plan to use them again.

While the FP-10 is portable and ideal for gigs, it lacks dedicated Line Out jacks, which would have been convenient for connecting to external audio equipment. Although it's possible to connect through the headphone jack using adapters and splitters, Line Outputs are easier and more desirable to use for external connections. Additionally, using the headphone jack may require extra adapters, which can be challenging to find. Moreover, the onboard speakers will automatically cut off when using the headphone jack.

To enhance your FP-10 experience, Roland has developed the Piano Partner 2 app, which is available on both iOS and Android. The app can be wirelessly connected to the piano via Bluetooth without requiring additional cables or adapters. The Piano Partner 2 app allows you to select instruments, change metronome settings, and adjust brilliance and ambience using the "Remote Controller." This app is a faster and more efficient way to change settings and instruments than using the Function button combined with piano keys.

It's worth noting that the Piano Partner 2 app is educationally focused, providing numerous learning opportunities.

The Piano Partner 2 app is an excellent resource for early piano students, including built-in flashcards and aural training exercises to aid their learning. Additionally, the app features a practice diary that tracks the time spent on the piano, which can be shared with teachers or friends.

One of the most significant benefits of the app is that it provides access to digital sheet music. This means you can connect your iPad or similar device, select the sheet music for a particular song you want to learn and place the device on the music rest for easy reading.

If you're interested in seeing how the FP-10 and the Piano Partner 2 app work together, check out this demonstration video:

The Bluetooth MIDI connectivity was a great feature that allowed for seamless integration with various apps and devices. The USB connection also made it easy for me to connect the piano to my computer for recording. However, the absence of standard MIDI ports and an audio output limited my options for traditional connections and more flexible setups.

Conclusion

In conclusion, my experience with the Roland FP-10 was a mix of strengths and weaknesses. While I enjoyed the keyboard action, sound quality, and compact design, I found the build quality, speaker performance, and connectivity options lacking. The FP-10 might be a suitable choice for beginners or intermediate players, but more advanced musicians might find the instrument falling short in certain aspects.

The Roland FP-10 digital piano is ideal for both beginners and intermediate musicians. It comes with a variety of features, giving you the ability to progress. Plus, its sound samples and expressiveness are of the highest quality. It even has the same feel as an acoustic piano!

If you're starting out or already have some intermediate-level piano experience, the Roland FP-10 is an excellent selection. With an authentic feel and sound that won't break your budget, it's tough to beat! However, if portability isn't a major concern and requires more advanced connectivity options & bigger speakers, then maybe upgrading to the FP-30 will be worth investing in.

Pros

88 full-sized keys
PHA-4 Standard Keyboard
SuperNATURAL Piano Modeling sound engine
Bluetooth connectivity
Stereo Line Outputs and USB audio recording

Cons

No USB audio interface
Limited internal storage space

If you're starting out or already a pro, the FP-10 is a great choice for great sound quality at an affordable price.

FAQs

Q: What is the Roland FP-10?

A: The Roland FP-10 is a digital piano that is designed to replicate the sound and feel of an acoustic piano.

Q: How does the Roland FP-10 compare to other digital pianos on the market?

A: The Roland FP-10 is often compared to other entry-level digital pianos such as the Yamaha P-45 and Roland FP-30.

Q: Does the Roland FP-10 have weighted piano keys?

A: Yes, the Roland FP-10 has weighted piano keys that provide a realistic playing experience, much like an acoustic piano.

Q: Does the Roland FP-10 come with the Roland Piano Partner 2 app?

A: Yes, the Roland FP-10 is compatible with the Roland Piano Partner 2 app, which allows you to control various features of the piano through your smartphone or tablet.

Q: Is there a Yamaha equivalent to the Roland FP-10?

A: The Yamaha P-45 is often considered the closest equivalent to the Roland FP-10 in terms of price point and features.

Q: Does the Roland FP-10 have Bluetooth connectivity?

A: Yes, the Roland FP-10 has Bluetooth connectivity, allowing you to connect wirelessly to your devices.

Q: Is the Roland FP-10 a portable digital piano?

A: Yes, the Roland FP-10 is a portable digital piano that can be easily transported and set up in different locations.

Q: What is the piano action like on the Roland FP-10?

A: The piano action on the Roland FP-10 is designed to feel like an acoustic piano, providing a responsive and natural playing experience.

Q: Can I use the Roland Piano Partner 2 app with the Roland FP-10?

A: Yes, you can use the Roland Piano Partner 2 app with the Roland FP-10 to access additional features and control the piano from your smart device.

Q: Would you recommend the Roland FP-10 to piano players?

A: Yes, I would highly recommend the Roland FP-10 to piano players who are looking for an affordable digital piano with a realistic sound and feel.

Hi, my name is Pallav, and I've been playing the piano for over 20 years. I'm also the proud owner of Digital Keyboard Piano, an online platform where I share detailed reviews of the latest MIDI controllers, digital pianos, and related equipment.