Are you an intermediate pianist looking to upgrade your home digital piano? With so many options to choose from, it can be difficult to determine which model offers the best value for your money.
In this comprehensive buyer's guide, we'll discuss the top 5 home digital pianos priced under $1500. We'll cover key factors like sound quality, keyboard action, features, connectivity, and design.
I've tested and reviewed all of these models hands-on so you can make an informed decision. Whether you're a beginner, intermediate, or advanced player, you'll discover the perfect digital piano for your playing style and budget.
Let's dive in!
How to Choose the Right Home Digital Piano
With digital pianos, you typically get what you pay for. Higher-priced models offer better sound, feel, and features. However, you don't need to spend a fortune to get excellent quality.
When shopping for a home digital piano under $1500, keep these factors in mind:
Sound Quality
This is the most important consideration. Listen to audio demos and try the pianos in person if possible. The sound should mimic an acoustic grand piano with warmth, resonance and expressiveness. For intermediates, aim for 128-256 note polyphony.
Keyboard Action
The weighted keys should replicate the feel and response of an acoustic piano. Look for graded actions that get progressively heavier from the treble to the bass. The keys should also be velocity-sensitive and include 3 sensors for accurate repetition.
Features
Consider split/layer modes, lesson functions, recorder, metronome, sound effects, Bluetooth connectivity etc. The more you utilize these features, the more you may want to prioritize them.
Design
Do you prefer a contemporary slimline look or traditional cabinet styling? Measure your room to ensure the piano will fit. Also, check speaker positioning and lid style. Console models often sound better.
Brand Reputation
Stick with well-known piano brands like Yamaha, Kawai, Roland, Casio and Korg. Their actions and sounds are well-refined. Lesser brands can cut corners and lack realism.
Now let's explore the top 5 best home digital pianos under $1500 and find the perfect model for you!
The 5 Best Home Digital Pianos Under $1500
| Features | Yamaha YDP-165 (No Frills Workhorse) | Roland F701 (Feature Packed) | Kawai KDP120 (Natural Grand Piano Sound) | Korg G1 Air (Unique Hybrid Design) | Casio AP-470 (Furniture Style Cabinet) |
| --- | --- | --- | --- | --- | --- |
| Model | Yamaha YDP-165 | Roland F701 | Kawai KDP120 | Korg G1 Air | Casio AP-470 |
| Keys | 88 | 88 | 88 | 88 | 88 |
| Fully-Weighted Keys | Graded Hammer 3 (GH3) | Progressive Hammer Action (PHA-4 Standard) | Responsive Hammer Compact II (RHCII) | Real Weighted Hammer Action 3 (RH3) | Tri-sensor Scaled Hammer Action II |
| Simulated Ivory/Ebony | – | Ivory only | – | – | – |
| Touch Sensitivity | 3 types, Off | 100 types, Off | 3 types, Off | 4 types, Off | 3 types, Off |
| Tone Generator | Yamaha CFX | SuperNATURAL Piano Sound | Harmonic Imaging (HI) | Stereo PCM | Multi-dimensional Morphing AiR |
| Polyphony | 192 notes | 256 notes | 192 notes | 120 notes | 256 notes |
| Built-in Tones | 10 (3 pianos) | 324 (12 pianos) | 15 (4 pianos) | 32 (12 pianos) | 22 (9 pianos) |
| Modes | Dual, Duo | Dual, Split, Duo | Dual, Duo | Dual, Split, Duo | Dual, Split (Bass only), Duo |
| Lesson Function | 50 classics + 303 lesson songs | 377 songs | 5 Song Books (over 200 songs) | 40 songs | 60 Songs (+ 10 User) |
| MIDI Recorder | 2-track, 1 song | 3-track, 1 song | 1-track, 3 songs | 2-track, 1 song | 2-track, 1 song |
| Audio Recorder | USB Audio Interface | – | – | – | WAV, 16bit, 44.1 kHz, stereo (onto a flash drive) |
| Preset Temperaments | – | 10 types | 7 types | 9 types | 16 types |
| Piano Elements | Damper/String/Key Off Resonance, Smooth Release | Lid, Damper/String/Key Off Resonance | Damper/Key Off Resonance, Hammer Delay, Lid Simulation | Damper/String/Key Off Resonance | Damper/String/Key Off Resonance, Hammer Response, Lid Simulator, Key On/Off Action Noise |
| Transpose, Tuning | – | – | – | – | – |
| USB Type B | MIDI and Audio support | – | – | – | – |
| Bluetooth Connectivity | – | Bluetooth (MIDI + Audio) | Bluetooth (MIDI + Audio) | Bluetooth (Audio) | – |
| Speakers | 20W + 20W | 12W + 12W | 20W + 20W | 2 x (20W + 20W) | 20W + 20W (4 speakers) |
| Weight | 92.6 lbs (42 kg) | 79.4 lbs (36 kg) | 81.5 lbs (37 kg) | 90.4 lbs (41 kg) | 95.7 lbs (43.4 kg) |
1) Yamaha YDP-165 – No Frills Workhorse
Yamaha is the undisputed leader in digital pianos, known for their meticulous craftsmanship and attention to detail. The YDP-165 delivers their signature sound and feel in a streamlined package without too many bells and whistles.
Authentic Grand Piano Tone
The YDP-165 utilizes samples from Yamaha's flagship CFX concert grand piano. The tone is rich, nuanced and expressive with beautiful resonance and sustain. VRM Lite technology simulates the natural reverb of an acoustic piano. Dual 20W speakers provide robust projection.
Graded Hammer Action 3 Keyboard
The 88-key GH3 action is Yamaha's best under $1500. It replicates the weighted hammer mechanism of an acoustic grand. The keys feature a graded touch that gets progressively heavier from treble to bass, just like on a real piano. The action includes 3 sensors for accurate repetition during fast passages.
Streamlined Design
The cabinet features a minimalist design well suited for any home décor. It's available in black, white and mahogany finishes. The music rest can easily fold down when not in use. While console models often provide fuller sound, the slim profile makes the YDP-165 easier to fit into small spaces.
Connectivity & Recording
Connect devices via USB or Bluetooth to use music apps or record performances. The 2-track MIDI recorder allows you to capture your progress. Other features include reverb, transpose, metronome and 50 classic piano songs.
The YDP-165 offers Yamaha's renowned sound and feel at an affordable price in a simplified package. While it lacks some features found in higher models, the essentials are done very well for focused practice and enjoyment.
Pros
Authentic Yamaha CFX grand piano tone
Graded Hammer 3 keyboard with 3 sensors
Simple, minimalist cabinet design
USB and Bluetooth connectivity
Built-in songs, metronome, recorder
Cons
Limited selection of instrument voices
Less sound customization abilities
No split or layer modes
No line out jacks
2) Roland F701 – Contemporary & Feature Packed
The F701 by Roland delivers impressive piano realism along with a huge variety of sounds and features for learning, practice and creative exploration. The contemporary slimline cabinet looks stylish in any home.
SuperNATURAL Piano Modeling
Roland's renowned SuperNATURAL technology perfectly replicates the complex tonal characteristics of an acoustic grand. You can adjust the resonance, hammer noise, damper effects and more. Over 300 other high-quality instrument sounds are included as well.
PHA-4 Standard Keyboard
The Progressive Hammer Action (PHA-4 Standard) keyboard offers impressive weighting and response. The accelerated action makes repeated notes swifter while remaining smooth and natural. The ivory-feel textured keys prevent slipping during performance.
Interactive Features
The F701 doubles as an educational tool with built-in songs, rhythms, recorder and twin headphone jacks for teacher/student private lessons. Bluetooth connectivity lets you interact with music apps for detailed visual guidance during practice.
Advanced Sound System
Despite its slim cabinet, the F701 generates impressive volume and resonance with a 4-speaker system, Acoustic Projection and Sound Separator technologies. Near-field speakers enhance the stereo image for the player.
For those seeking cutting-edge digital piano innovation alongside authentic acoustic piano touch and tone, the Roland F701 is a top choice.
Pros
SuperNATURAL piano modeling technology
Large library of quality instrument sounds
Bluetooth MIDI and audio connectivity
Powerful 4-speaker sound system
Interactive educational features
Cons
Keyboard lacks simulated ivory feel
Minimal effects for piano customization
No USB audio interface
3) Kawai KDP-120 – Natural Grand Piano Sound
Kawai digital pianos are highly respected for their impressive acoustic piano realism. The KDP-120 delivers rich grand piano tone and wood cabinet elegance at a reasonable price.
SK-EX Rendering & Grand Feel Pedaling
The KDP-120 harnesses the acoustic sound of Kawai's flagship SK-EX concert grand piano. Advanced rendering technology produces stunning tone with natural resonance and expressiveness. The pedals replicate the proper damper, soft and sostenuto functionality of a grand piano.
Responsive Hammer Compact II Keyboard
The 88-key Responsive Hammer Compact II action accurately simulates the touch of Kawai's premium grand piano actions. Its graded weighting provides authentic feel across the entire key range. Triple sensor detection enhances responsiveness for swift repetition.
Hands-On Learning Features
The KDP-120 assists with piano education and skill refinement. Built-in lesson songs allow you to practice each hand individually. The handy recorder lets you track your progress. Bluetooth connectivity extends learning possibilities via music apps.
Sleek Cabinet Design
The classy wood cabinet exudes elegance with its furniture-style pedalboard and bench. Available in premium mahogany, black or white finishes. Weighing under 38 kg, it's one of the more portable console models.
Kawai is renowned for crafting concert grand pianos. The KDP-120 makes their impressive acoustic sounds more attainable for home use and delivers remarkable realism for the price.
Pros
SK-EX grand piano tone rendering
Responsive Hammer Compact II keyboard
Elegant furniture-style cabinet
Built-in lesson songs and recorder
Bluetooth MIDI connectivity
Cons
Limited instrument voices
No display for navigation
No split/layer modes
No line out jacks
4) Korg G1 Air – Unique Hybrid Design
The Korg G1 Air fuses modern innovation and classical elegance. This hybrid piano blends a slimline silhouette and Bluetooth streaming with grand piano touches like a lid and pedals.
German, Austrian & Japanese Grands
The G1 Air captures the essence of 3 renowned grand piano brands in one instrument – the robust bass of a German, sparkling trebles of an Austrian and mid-range clarity of a Japanese. These multi-sampled pianos can be layered together.
Real Weighted Hammer Action 3
Korg's RH3 keyboard on the G1 Air provides authentic grand piano touch and response. The graded hammer action follows the dynamics of hammers inside an acoustic. The keys have a textured synthetic ivory finish that absorbs moisture.
80W Resonance Sound System
Despite the slim design, the G1 Air pumps out impressive volume through its 4-speaker multi-channel sound system. The bass reflex port provides abundant resonance. Adjustable Reverb, Chorus and Brilliance settings let you tailor the sound.
Premium Pedal Unit & Lid
While streamlined, the G1 Air incorporates high-end details like a soft-close fallboard lid with front legs styled after a grand piano. Half-pedaling support allows fine damping control. The included pedal unit has a genuine wood finish.
The Korg G1 Air deftly blends contemporary aesthetics and authentic piano realism. With its unique hybrid design, you can stream audio wirelessly like a portable or enjoy the acoustic piano experience.
Pros
3 distinct grand piano tones
RH3 wooden-key keyboard action
Slim, unique hybrid design
80W 4-speaker sound system
Bluetooth audio streaming
Cons
Low 120-note polyphony
Very few effects or customization
No Bluetooth MIDI or audio interface
5) Casio AP-470 – Furniture Style Cabinet
The Casio AP-470 exudes elegance with its acoustic piano cabinet styling and detailed simulation of grand piano characteristics. An excellent value proposition.
AiR Grand Piano Source Engine
The AP-470 harness Casio's AiR processor to recreate the intricate nuances of grand piano tone. String resonance, lid positioning and key off simulations further enhance realism. Two types of piano samples are included: Berlin grand and Hamburg grand.
Tri-Sensor Scaled Hammer Action II
Casio's Tri-Sensor Scaled Hammer Action II provides weighted mechanics and textured ivory keytops. The keys exhibit different weights based on the hammers inside an acoustic piano. 3-sensor detection allows rapid repetition.
Furniture Cabinet with Lid
The AP-470 has an attractive upright piano body with sliding key cover. The cabinet is available in black, brown or white finishes. The 40W 4-speaker system takes advantage of the ample resonance properties. Automatically close the lid using the pedal.
Practice Features & Audio Recording
Built-in lesson songs, 60 classis pieces and duet mode facilitate practice and learning. Concert Hall effects tailor the sound. Unique to Casio, you can record performances as WAV files directly to a USB drive without a computer.
The Casio AP-470 blends furniture cabinet elegance, grand piano verisimilitude and practice enhancing features at a wallet friendly price. An unmatched value.
Pros
Furniture cabinet with lid
AiR grand piano tones
Simulated acoustic resonances
Onboard audio recorder
Lesson features and duet mode
Cons
Keyboard action lacks refinement
No Bluetooth connectivity
Limited split mode options
No line out jacks
Making the Final Decision
We've covered a lot of ground on the top digital piano models under $1500. Each instrument comes with its own strengths and specialties.
Here are some final tips to guide your decision:
Settle on the key action you prefer – light, medium or heavy weighted feel. This can be the hardest thing to judge without trying in person.
Consider your need for extra sounds and rhythms beyond the piano voices. FP-90 and AP-470 have the most options.
Will you use Bluetooth, lesson features or recorder? Check that the piano offers the connectivity and learning tools you'll utilize.
Listen closely to the piano samples. Close your eyes and imagine yourself performing on stage. Which tone transport you there?
Weigh the importance of cabinet design and portability needs if you intend to move the piano around occasionally.
Any model here would suit an intermediate pianist well. At this price range, it largely comes down to your priorities and playing style preferences.
Hopefully these digital piano reviews have illuminated the path towards finding your perfect match! Let me know if you have any other questions. Enjoy the journey and keep pursuing your musical passion.
Things You Must Know Before Choosing Your Digital Piano
Keys
Action Types
Touch Sensitivity
Polyphony
Modes
Lesson Function
MIDI Recorder
Audio Recorder
Accompaniment
Transpose
USB Type A
USB Type B
Contemporary acoustic pianos are equipped with a standard of 88 keys. On the other hand, various digital pianos and keyboards come in a range of key counts including 88, 76, 73, or 61 keys.
While 73 keys may be sufficient for playing the majority of modern compositions, approximately 99% of them, certain intricate classical pieces necessitate a complete set of 88 keys. Therefore, for those who aspire to play these more demanding pieces, an 88-key keyboard or digital piano is recommended.
There are three primary types of keyboard actions available for digital pianos, synthesizers, and portable keyboards:
Non-weighted action is the most common type found in organs, synthesizers, and entry-level keyboards. As the name suggests, it has no added weight or resistance to the keys.
Semi-weighted action is a more affordable option commonly found in portable keyboards that cost less than $300. This type of action utilizes a spring-loaded mechanism to provide additional resistance to the keys, giving them a slightly more realistic feel than non-weighted actions.
Fully weighted action, also known as hammer action, is designed to replicate the mechanics of an acoustic piano. Instead of springs, it employs small hammers attached to each key to mimic the mechanical movements inside a real piano. A keyboard with fully weighted hammer action keys is highly recommended if you want to play the piano.
Hammer action keys provide a similar feel to that of an acoustic piano, which is essential for developing proper finger strength and technique. This will make it easier to transition to an acoustic piano in the future, should you decide to do so.
The touch sensitivity feature, also known as velocity sensitivity or touch response, is a crucial aspect of any keyboard or digital piano. It allows the instrument to produce varying volumes of sound based on how hard or soft the keys are played.
Fortunately, touch-sensitive keys are now widely available in most keyboards and digital pianos, costing over $150 regardless of their action type. Thus, it is no longer a significant concern when choosing a keyboard or digital piano.
What's more important is whether the keyboard has weighted keys or not. Keyboards with fully weighted action often offer adjustable touch sensitivity, allowing you to customize it to your playing style.
Polyphony refers to the number of notes a digital piano can produce simultaneously. Nowadays, most digital pianos offer 64, 128, 192, or 256-note polyphony.
You may wonder how a digital piano can produce 32, 64, or even 128 notes at once, given that there are only 88 keys, and we never play them all simultaneously. The reason is that many modern digital pianos use stereo samples, which require two notes for each key played.
Moreover, using the sustain pedal, sound effects (such as Reverb and Chorus), dual-mode layering, and even the metronome ticking sound can consume additional notes of polyphony.
For example, when you use the sustain pedal, the earliest played notes continue to sound while you add new ones, and the piano requires more memory to keep all the notes sounding. Another example is when you play along with a song playback or auto-accompaniment. In such cases, the piano needs polyphony for the notes you're playing and the backing track.
When you reach the polyphony limit, the piano begins to drop the earliest played notes to free up memory for new notes, which can affect the quality and fullness of the sound. Although you'll rarely need all 192 or 256 voices of polyphony at once, it is possible to reach 64 or even 128 note limits, particularly if you like to layer several sounds and create multi-track recordings.
For an intermediate player, it's desirable to have 128 notes of polyphony or more.
Digital pianos offer more than just the standard "Single" keyboard mode. Additional modes allow you to use two different instrument sounds or even play four-handed simultaneously. Let's take a look at the most popular modes available on digital pianos:
Split Mode – This mode divides the keyboard into two parts, enabling you to play a different instrument sound in each section. For instance, you could play guitar with your left hand while playing the piano with your right hand simultaneously.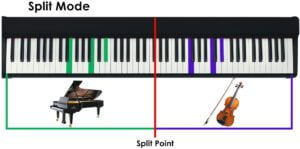 Dual Mode (Layering) – Dual mode lets you layer two distinct sounds to play simultaneously whenever you press a key. You could, for example, layer strings with a piano sound, or any other combination of sounds you fancy, to create new and interesting combinations.
Duo Mode (also known as Duet Play, Partner Mode, Twin Piano) – This mode divides the keyboard into two halves with identical pitch ranges, allowing two individuals to play the same notes simultaneously, including the same middle C notes.
Duet Play is particularly advantageous when used with a teacher or tutor. They can play melodies on one side of the keyboard while you play the same notes simultaneously on the other. It is a fantastic way to learn and develop your piano-playing skills.
Certain digital pianos feature a useful function that enables you to mute a song's left- or right-hand part (track). This allows you to practice playing along to the remaining track that is still audible, either a preset song or one you have downloaded from the internet.
Pianos that have this function typically come equipped with a multi-track MIDI recorder. This tool records each part of a song separately, allowing you to selectively mute or solo specific parts when playing back the song. This feature is an excellent practice tool for honing your skills and improving your ability to play alongside a pre-recorded track.
A MIDI recorder is a handy tool that enables you to record and playback your own performances without requiring any additional equipment. You can use it to capture your piano playing and listen back to your recordings later.
Multi-track recording is a particularly useful feature of MIDI recorders that allows you to record multiple musical parts onto separate tracks and play them back together as a single song. This feature lets you experiment with your recordings by turning off some of the recorded tracks.
For example, you could record the right-hand part of a song on track 1, and the left-hand part on track 2 while listening to the playback of the first track. You could also create complex, multi-instrument recordings by recording several instrument parts onto separate tracks and playing them back together afterward.
It is essential to note that MIDI recording is not the recording of the actual sound of the instrument. Instead, it records the MIDI data, which consists of a sequence of notes, their length, velocity, and other parameters.
Many digital pianos come equipped with a built-in audio recorder that allows you to record the actual sound of the instrument using its native samples. Once recorded, the file is typically saved to a flash drive in WAV format (Linear PCM, 16bit, 44.1 kHz, Stereo).
Using this function, you can create high-quality recordings of your playing that you can then share on social media, upload to platforms like SoundCloud, or even burn onto a CD.
Audio recordings offer a higher level of universality than MIDI recordings, as they provide you with a CD-quality audio file that can be played on most modern devices without requiring any additional software or sample libraries (VSTs) to render a MIDI recording to audio.
One of the most exciting features of some digital pianos is their accompaniment function, which can greatly enhance your performance by providing full backing accompaniment, including rhythm, bass, and harmony that will follow your playing and make you sound like a full band.
The accompaniment changes depending on the notes you play with your left hand, whether chords or even single notes if you don't know the full chords. In essence, you can manage your own "band" with your left hand by specifying the chords and playing the main melody with your right hand.
Some instruments offer several accompaniment modes and allow you to specify chords using the full range of the keyboard, giving you even more flexibility and creative control over your performance.
The transpose function is a valuable feature that enables you to modify the keyboard's pitch in semitone increments. This function is particularly useful when you want to play a piece of music in a different key without learning it in a new key and changing your finger placement.
For example, if you already know how to play a song in F major, you can transpose it to C major without learning it in the new key. Additionally, you can transpose a song written in a difficult key, such as one with many black keys, into an easier key with simpler chords while still hearing it in the original key.
The tuning function, on the other hand, allows you to fine-tune the keyboard's pitch in increments of 0.1Hz or 0.2Hz from the standard A440 tuning. This function comes in handy when you need to match the piano's pitch precisely to that of another instrument or recording, including an old piano.
This particular port, also known as the USB to Device port or USB drive port, serves as a convenient tool for connecting a flash drive to the piano for quick and easy file exchange.
For instance, you can transfer MIDI songs into the piano's internal memory for playback or rehearsal, provided the piano offers this capability. Alternatively, some piano models allow you to play back WAV and MIDI files directly from the flash drive without loading them into the piano's internal memory.
Finally, you can store your performances recorded with the instrument onto the flash drive and load them back onto the instrument at your convenience.
The USB port on your digital piano is commonly known as the USB to Host terminal or USB to Computer port. Its primary purpose is to facilitate the exchange of songs, files, and MIDI data between your piano and a computer or smart device using a special adapter.
By utilizing this port, you can transform your piano into a MIDI controller and gain access to a plethora of music applications like GarageBand, FlowKey, and Playground Sessions. These apps can enhance the functionality of your digital piano and provide you with a more immersive and personalized musical experience.
In addition to the applications above, numerous other programs can help you learn, compose, record, and edit music. Some piano manufacturers even offer free apps designed for their particular piano models. These applications typically provide an intuitive graphical interface that allows you to control all of the settings and functions of your instrument.
FAQs
What are the best digital pianos under $1500?
If you're in the market for a digital piano and have a budget of $1500, there are several excellent options to consider. These pianos offer a combination of quality, features, and affordability that make them stand out in this price range.
What is a stage piano?
A stage piano is a type of digital piano that is designed for use on stage or in live performance settings. These pianos typically have a rugged construction, built-in speaker systems, and a wide range of sounds and functions that allow them to be used in a variety of musical genres.
What should I look for in digital pianos in this price range?
When shopping for a digital piano under $1500, there are several key features to consider. These include the speaker system, the quality of the piano sound engine, the portability of the instrument, and the overall playing experience.
Are there any portable digital pianos under $1500?
Yes, there are several portable digital pianos available in this price range. These instruments are lightweight and compact, making them easy to transport and set up. They often feature advanced piano sound engines, realistic piano feel, and a range of additional features.
Can a digital piano provide the same experience as a real acoustic piano?
While a digital piano cannot replicate the exact experience of playing a real acoustic piano, many models in this price range come close. They often utilize advanced piano sound engines and have weighted keys that simulate the feel of playing a real piano.
What are some recommended digital pianos under $1500?
Some popular options in this price range include the Yamaha YDP-164, Roland FP-30, and Korg Digital Pianos. These models are known for their high-quality piano sounds, realistic feel, and a wide range of features.
Do digital pianos in this price range come with a speaker system?
Yes, many digital pianos under $1500 come with a built-in speaker system. These speakers typically provide enough power to fill a small room and deliver a clear and balanced sound. However, it's important to note that the quality of the speaker system can vary between models.
Is it possible to connect a digital piano to other audio devices?
Yes, most digital pianos in this price range offer the ability to connect to other audio devices via USB Audio or MIDI ports. This allows you to interface your digital piano with a computer, tablet, or external sound system for recording or live performance purposes.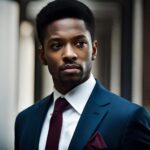 Hi, my name is Pallav, and I've been playing the piano for over 20 years. I'm also the proud owner of Digital Keyboard Piano, an online platform where I share detailed reviews of the latest MIDI controllers, digital pianos, and related equipment.