Hey there, fellow music lover! 🎶 Ever found yourself daydreaming about the perfect digital piano? One that sings to your soul without emptying your pockets? As a piano teacher and performer, I've been there. And guess what? I might have stumbled upon a gem in my quest. Ever heard of the Casio PX-870? Yep, you guessed it! I'm about to dive into my own "Casio PX-870 review."
Now, imagine having an instrument that feels just right under your fingers. How does the PX-870 fare, you ask? Well, my friend, let me pull you into my world for a sec. I spent weeks with this beauty – exploring every nook and cranny, every high note, and low.
Sound quality? Think of a serene lake on a still morning. That's the clarity I felt. And the key action? Almost like dancing with an old friend. And here's a fun fact: it comes packed with features that even left me, a seasoned pianist, pleasantly surprised. Is it value for money? Oh, absolutely! But hey, don't just take my word for it. Give it a whirl, and perhaps, just like me, you'll find yourself serenading the night away! 🎹💃
So, thinking of giving the Casio PX-870 a spin? 😉
Overview of the Casio PX-870 Digital Piano
The PX-870 sits at the top of Casio's Privia line of home digital pianos. With a price tag of around $1,500, it's marketed as a high-quality instrument for serious players. The PX-870 replaces the older PX-850 model, with notable upgrades to the speaker system, keyboard action, and piano sound.
Casio PX-870 specs
Keyboard: 88 keys, weighted scaled hammer action with ebony and ivory texture
Sound Source: Multi-dimensional Morphing AiR Sound Source
Polyphony: 256 notes
Tones: 19 grand piano tones, 15 other tones, 256 note max. polyphony
Effects: Hall simulator, chorus, brilliance, DSP, chorus, Brilliance
Song playback: 60 songs, including 10 user songs
Lesson function: 2-track recorder, duet mode, split and layer functions
Connectivity: USB MIDI, USB flash drive, headphone jacks (2), line out jacks (L/MONO, R), audio in jack, pedal (damper) connector, AC adaptor connector
Speakers: 4-speaker system (2x12cm, 2x5cm)
Amplifier: 20W + 20W
Dimensions: 55.08″ x 11.77″ x 31.42″ (with stand)
Weight: 74.08 lbs (with stand)
So in short, for an intermediate-level digital piano, the PX-870 checks off a lot of boxes on paper in terms of replicating the acoustic piano playing experience. But how does it actually perform? Let's dig into the details.
Design
In addition to sound, feel, and features, another important consideration for any digital piano is the overall design and aesthetics. The Casio PX-870 strikes a nice balance of presenting a stylish, refined cabinet that still maintains a relatively compact footprint.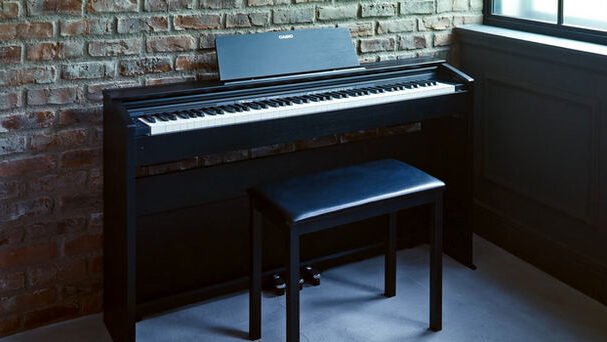 The polished black finish has subtle woodgrain accents that lend an authentic, furniture-like appeal. The music rest has a clean, minimalist look with angular ridged sides. Beyond straight black, the PX-870 is also available in an elegant white oak finish. So it readily blends into a variety of home decor.
With dimensions of 52" x 11" x 6", the PX-870 manages to squeeze an 88-key hammer action keyboard into a cabinet not much larger than a typical upright piano. The integrated stand features a three-pedal assembly and locking mechanisms to secure the vertical support posts.
On stage, the PX-870 projects a bold, elegant presence. And the downward facing 20W speakers are angled to optimize sound dispersion without taking up precious real estate on the rear panel.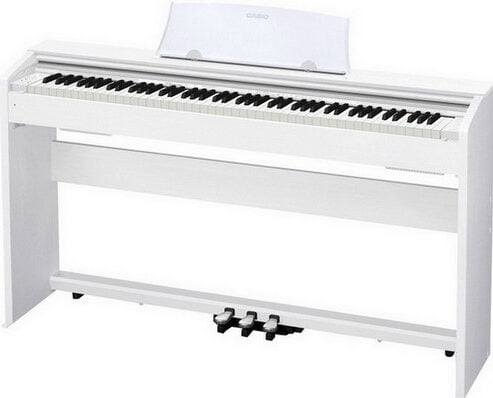 Ultimately, form follows function here. And though compact, the sturdy construction and handsome finishes still make the PX-870 an instrument you'll be proud to display front and center in your home. The scaled down footprint only adds to its merits as a space-saving digital piano alternative without compromising on acoustic authenticity.
Sound Quality
One of the most important factors for any digital piano is how convincing and realistic the sound is. No matter how nice the key action, if the tone itself falls flat, the overall experience will be lacking.
Casio uses their proprietary AiR (Acoustic and Intelligent Resonator) processor to recreate the sound of a concert grand piano for the PX-870. Many digital piano brands hype up their sound engines with fancy marketing names, but with the PX-870, I can attest that the piano tone holds up very well to critical listening.
Through my headphones, the warmth and character of the concert grand came through beautifully. Subtleties like the attack, sustain, and natural decay were modeled realistically. When playing with various dynamics from soft to loud, the tonal depth responded appropriately. Plenty of digital pianos in this price range tend to sound a bit sterile to my ears, but that wasn't the case here.
Coming through the onboard 20W speaker system, the sound maintained its clarity and presence. The bass tones have noticeable fullness that give the piano convincing body when playing without headphones. High notes also cut through well without sounding shrill. Two large oval ports on the underside help project the mid and high frequencies outward more directly.
All in all, Casio has done an impressive job at crafting an authentic concert grand piano tone. The AiR processor faithfully captures the depth and dynamics of an acoustic instrument. While the speaker system gives the piano enough power for playing at home or small performances.
In addition to the realistic concert grand, the PX-870 also provides over 550 instrument tones and 180 rhythms. So if you want to experiment with playing strings, organs, synth pads, etc., there's plenty of variety on offer. The additional sounds aren't all of equal quality, but provide some fun bonus options for musical creativity.
Polyphony
Polyphony is key when choosing a digital piano. It's the ability to play many notes at once. Each note needs its own sound. Generally, the higher the polyphony number, the better. The Casio PX-870 has a 256-voice polyphony. It makes it one of the best digital pianos. No matter the music or notes included, it can handle complex pieces. Without any dropped notes, you get a professional outcome. With 256 voices, you have plenty of dynamic range.
Keyboard Action
For discerning pianists, a quality weighted keyboard action is paramount for recreating the proper acoustic piano playing experience. On the PX-870, Casio uses their Tri-sensor Scaled Hammer Action II keyboard.
Like most contemporary digital pianos, each key is weighted to mimic the feel of an acoustic grand's mechanical hammer system. The keys have a graded touch, meaning the bass keys require slightly more force than the higher treble keys, just as on a real piano. This graded touch helps to facilitate proper technique for dynamic control across the keyboard.
Casio adds a texture to the white keys meant to simulate ivory, while the black keys have a textured ebony finish. Personally, I found the texturing helped enhance the overall tactile experience, with the keys feeling less plastic and synthetic. The textured finish also absorbs finger moisture and oil for better grip over time.
The triple sensor mechanism refers to having three optical sensors beneath each key instead of the standard two. This improves responsiveness, especially on quick repetitions where you don't fully release the prior key. Some competitor models in this price range only use dual sensors, so the triple system is a nice perk.
In terms of key weighting, the PX-870 sits on the heavier side. For those with a strong finger technique, this adds an element of realism like playing a grand piano with sturdier mechanical action. But for students or those with less developed finger strength, the heavier touch could prove fatiguing over longer practice sessions.
There are certainly lighter keyboards out there, but the PX-870 stays consistent with Casio's goal of replicates an acoustic piano's touch. Those seeking a digital piano to double as a portable keyboard for organ or synth may want to look elsewhere. But for piano purists focused on developing classical technique, the PX-870 delivers a satisfying weighted action.
Additional Features
Beyond just sound and feel, the Casio PX-870 includes a variety of additional features suited for practice, performance, and composition. Here are some of the highlights worth mentioning:
Split and Layer Functions – The keyboard can be split into two zones to play bass in the left hand and piano in the right. You can also layer instruments, such as piano and strings, for more complex sounds.
60 Built-in Songs – The PX-870 includes a nice selection of classical pieces to play along with for practice. You can turn parts on or off and adjust the tempo.
Chordana Play App Integration – With a mobile device and the Chordana Play app, the on-screen notation and scoring help reinforce proper technique while playing the built-in songs.
Recording and Playback – Both MIDI and audio can be recorded and played back via the USB-A port. This is hugely beneficial for reviewing your progress.
Sound Customization – For deep editing, various sound shaping parameters like resonances, lid position, and hammer response can be tweaked via the Function buttons.
Multiple Modes – In addition to the default concert piano sound, various other presets offer quick access to suit moods like ballads, jazz, or rock.
Taken together, these features elevate the PX-870 beyond just a practice instrument. Everything from composition to performance prep, to piano lessons can benefit from the PX-870's versatility. Students will also appreciate the practical record and playback functions when reviewing techniques and assignments.
Connectivity
For connectivity, the PX-870 is well-equipped to integrate with computers, mobile devices, headphones, and sound systems. On the back panel you'll find the following ports:
USB-A – For connecting to computers for MIDI data transfer or flash drives for audio/MIDI recording
USB-B – Allows connection to mobile devices like phones or tablets for integration with music apps like Chordana Play
Pedal inputs – For connecting up to 3 pedals (included), sustain, soft, sostenuto
Line outputs – To connect to external speakers, mixers, or amplifiers with standard 1/4″ cables
Headphone jacks – 2 stereo mini jacks are provided for private practice
The PX-870 lacks Bluetooth connectivity, which is becoming a more common feature on contemporary digital pianos. However, the USB-B port essentially allows you to achieve the same wireless functionality by plugging into a phone or tablet.
For most home users, the connectivity options provided will cover the typical use cases. Hooking up headphones for private practice or external speakers for more power is straightforward. And being able to connect mobile apps via USB significantly expands the creative possibilities.
In Use: Playing Experience
After going over the basic specs and features, here are some further thoughts on what it's actually like to sit down and play the PX-870 for an extended period of time:
The keyboard action truly shines here, where the graded hammer touch becomes intuitive. The keys respond precisely and reliably to subtle gradations in dynamics from pianissimo to fortissimo.
The simulated ivory and ebony textures on the keys make a noticeable difference, enhancing grip and comfort over long practice sessions.
Playing quietly through headphones reveals nuances in the piano tone that simply aren't possible on a real upright or grand at low volumes. The AiR processor helps ensure tonal realism is maintained.
The built-in lesson songs are great for testing techniques. Being able to isolate parts improves focus when learning hands separately before combining.
Experimenting with built-in sounds like organs, synth pads, and strings is enjoyable. They sound decent and provide nice variety, despite lacking the realism of the piano.
The build quality throughout feels sturdy and durable. The stand assembly was stable and secure without any wobbling during enthusiastic play.
With the cost savings of a digital instrument, it's that much easier to justify purchasing a quality bench and triple pedal unit for the full piano playing experience.
To summarize, the Casio PX-870 provides a gratifying playing and practicing experience for intermediate to advanced pianists. Everything from technique building to musical exploration is well-supported thanks to the authentic touch response and engaging features.
Standout Qualities
To recap, here are the standout qualities I observed about the Casio PX-870:
Realistic piano sound – The AiR processor authentically reproduces a detailed concert grand piano tone through the powerful speaker system. Dynamics are nuanced across the range.
Graded hammer weighted action – The 88 keys replicate the precision touch response of an acoustic grand with graded weighting and simulated ivory/ebony textures.
Helpful practice features – Built-in lesson songs, playback, and app integration greatly enhance the learning experience for students.
Connectivity options – With USB, line outs, and pedal inputs, the PX-870 readily integrates with computers, apps, headphones, and more.
Premium feel – The sturdy cabinet and textured keys give the PX-870 a refined look, feel, and build quality defying its mid-range price tag.
Pros and Cons
The Casio PX-870 is a stylish, lightweight digital piano. It captures the nuances of a grand acoustic piano. But, it has some limits compared to other digital pianos.
Pros
It accurately emulates a grand acoustic piano for expressive play
The LCD display helps users easily choose sounds
It's small size makes it great for learners, and professional musicians
Cons
Heavy key action
No Bluetooth
Alternatives
The Casio PX-870 occupies a crowded space in the digital piano market, with ample competition from other major brands. Here's a brief overview of how some comparable models stack up:
Yamaha YDP-144 – Yamaha's entry in this price range. Very light action but highly realistic piano sound. No USB connectivity.
Roland RP102 – Authentic keyboard action with escapement. Advanced sound engine. Interactive lesson features.
Kawai KDP-110 – Similar hammer action feel with excellent piano sound. Lighter overall build construction.
Kawai ES110 – Significantly lower priced but commendable piano sound quality. Basic action and features.
Yamaha P125 – Yamaha's bestselling portable stage piano. Lighter keyboard touch but lacks cabinet stand.
From this selection, the PX-870 stands out for delivering the best balance of authentic weighted action and high-quality piano sound in an integrated cabinet design – all for a mid-range price.
Summary
Having spent significant time playing and evaluating the Casio PX-870, I can confidently recommend it as an intermediate digital piano that punches above its class.
The AiR processor provides extremely realistic concert piano tones that sound full and nuanced through the powerful speaker system. Casio's hammer action keyboard intuitively responds to the subtlest musical gestures.
Thoughtful extras like built-in lessons, accompaniment tracks, and app integration make practice more engaging and productive for students. And the portable design still easily fits into any home decor.
For around $1,000, the Casio PX-870 combines convincing acoustic piano realism with premium features at a reasonable price point. Beginners would still be well served by Casio's more affordable options like the PX-160 or PX-770. But for advancing players aspiring to develop their technique in earnest, the PX-870 is easy to recommend. It avoids compromise and delivers a satisfying playing experience on par with more costly competitors.
So in the market for a digital piano upgrade? Do yourself a favour and visit a showroom to test out the Casio PX-870. Let your own fingers discover just how impressively this overachieving instrument captures the authentic feel and joy of playing piano.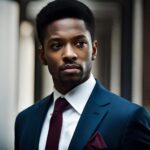 Hi, my name is Pallav, and I've been playing the piano for over 20 years. I'm also the proud owner of Digital Keyboard Piano, an online platform where I share detailed reviews of the latest MIDI controllers, digital pianos, and related equipment.