As a pianist with over 20 years of experience playing a wide variety of keyboards on stage, in the studio, and at home, I was eager to get my hands on the new Nord Piano 4. Having owned and played previous Nord keyboard models like the Electro and Stage series, I was familiar with the quality and attention to detail that Nord is known for. However, the Piano 4 targeted a more focused goal – creating the ultimate digital piano optimized for live performance.
After extensively testing and performing with the Nord Piano 4 for four months now, I can confidently say that it achieves its goal admirably. As a versatile stage piano ideal for gigging musicians, it packs an incredible array of world-class piano sounds, intuitive controls, and portability into a thoughtfully designed instrument. If you're looking for a great feeling keyboard action, excellent piano sounds, and streamlined operation, the Nord Piano 4 deserves your consideration.
| Image | Product | Feature | Price |
| --- | --- | --- | --- |
| Top Pick | 1. Nord Stage 3 | The Nord Stage 3 has modern technology in an ultra-lightweight design. This makes it easy to take your keyboard performance anywhere. | Check On Amazon |
| | 2. Nord Stage 4 | The Nord Piano 4's design is made for performance and convenience. Its black aluminum casing is strong and robust. | Check On Amazon |
| | 3. Yamaha P45 | This high-quality stage piano has been designed with input from some of today's top touring artists and boasts a wide range of sounds, including electric pianos plus strings and organs sampled from Yamaha's famed CFX concert grand. | Check On Amazon |
| | 4. Casio PX-870 | This slim and stylish digital piano features Casio's AiR Sound Source for realistic acoustic piano sound, along with hundreds of additional sounds and effects. | Check On Amazon |
| | 5. Casio PX-770 | The Casio Privia PX-770 is an affordable digital piano that offers a realistic piano sound and feel. | Check On Amazon |
Design & Build Quality
Nord has always impressed me with the sturdy construction and durability of their instruments. The Nord Piano 4 is no exception, with its solid metal chassis and quality plastics resulting in a very robust, road-ready keyboard.

The sleek, red colour scheme Nord is known for looks fantastic here. While largely similar to the previous Nord Piano 3 in layout, the front panel has been simplified with a cleaner appearance. Dedicated buttons for piano features like String Resonance and Soft Release allow quick access without menu diving. I appreciate the subtle LED indicators for split points as well.
The full-color LCD display is crisp and easy to read on any lighting condition. It effectively consolidates parameters for editing sounds without looking cluttered. Overall, the Nord Piano 4 clearly draws design inspiration from past Nord instruments but improves upon them in subtle ways.
At just 33 lbs / 15 kg, the Nord Piano 4 is quite portable for a 88-key digital piano with hammer action. The optional custom gig bag further improves mobility with smooth rolling wheels and a handle. This combination makes transportation effortless and protects your investment during transport.
Keyboard Action
The Nord Piano 4 features the same excellent fully-weighted hammer action keyboard as its predecessor – the Nord Triple Pedal. Manufactured by Italian company Fatar, it uses graded hammer action with 3 sensors per key for accurate response across dynamic levels.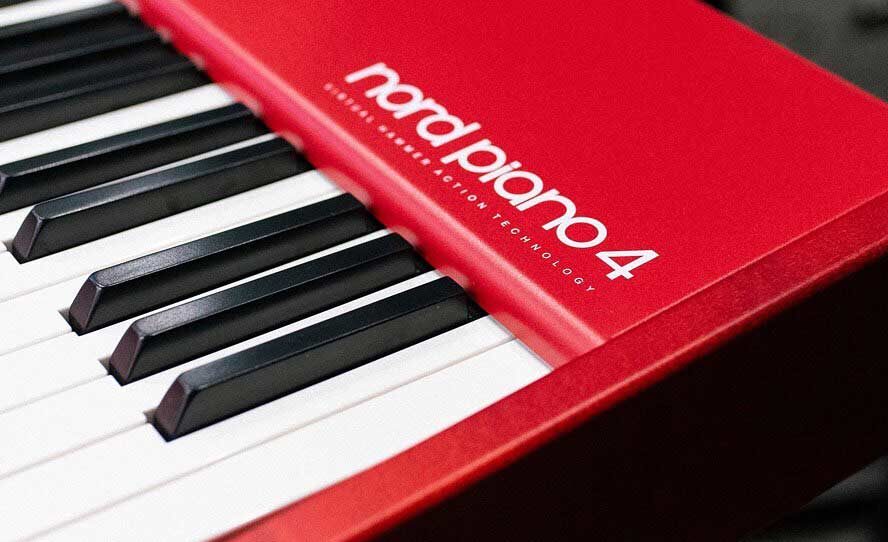 Coming from acoustic pianos, this action immediately felt familiar under my fingers. The weight and resistance curve very closely mimics an acoustic grand, with a heavier touch in the bass and lighter action towards the treble. The keys have a bit of bounce and inertia which I enjoy, as it allows for more nuanced playing.
The triple sensor design means rapid repeated notes are easy to play, which is great for fast passages. I never experienced any dropped notes or triggering issues. The action is simply very natural and responsive.
At over 1000 sounds on board, the Nord Piano 4 has an immense library of quality piano samples to choose from. Acoustic grands, uprights, digital pianos, electric pianos, and more – it's all here. Nord even added more sound memory and continues expanding the library with free updates.
Piano Sounds
I was instantly impressed by the flagship "Royal Grand 3D" piano sound. Sampled from a Yamaha CFX concert grand, it sounds beautifully rich and nuanced. Subtle elements like mechanical noise, pedal noise, and intricate resonances make it come alive. The huge dynamic range lets me express myself from delicate pianissimos to crashing fortissimos.
Beyond the flagship, there are numerous other high-quality pianos to explore like the warm German "Velvet Grand" or the intimate vintage "Parlor Grand". The selection covers an incredibly diverse range of tones suitable for any style of music.
Electric and clavinet sounds are also standouts here. From classic Rhodes and Wurlitzer to FM and digital pianos, the sparkling tones are great for funk, soul, or pop. The clavinets have an authentic growl and grit that makes them a joy to play.
I also appreciate how customizable the piano sounds are. You can tweak characteristics like tuning, voicing, and ambience to craft your own unique piano. Effects like tremolo, reverb and EQ give additional options for shaping your sound.
Features & Controls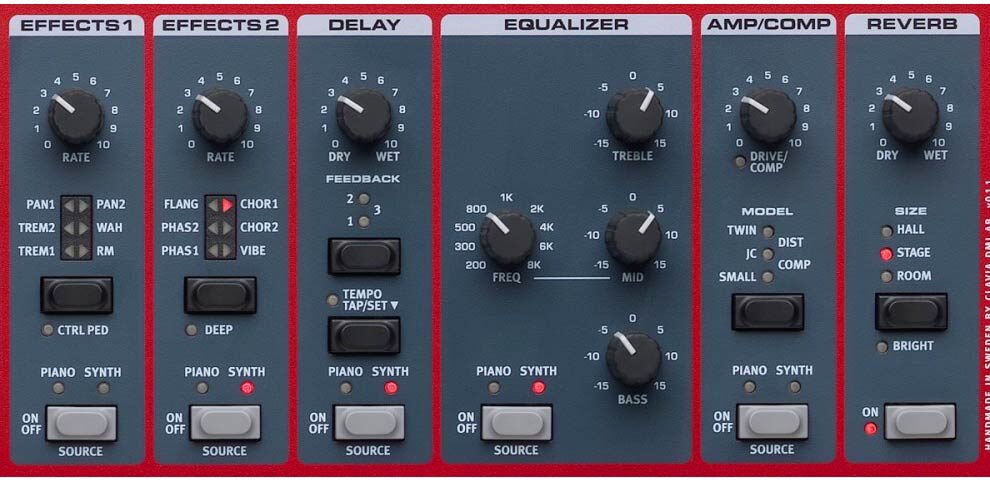 Despite its focus on piano sounds, the Nord Piano 4 includes a very usable secondary synth section. The streamlined interface makes it easy to quickly layer strings, pads, or bass under the piano sound in a split or dual configuration. The sounds might not be as deep as a full synthesizer, but they expand the instrument's versatility in a simple way.
Switching between sounds is seamless and instantaneous on the Nord Piano 4. This is a huge advantage in a live scenario compared to some digital pianos where you hear the sound cut out briefly when changing programs.
The dedicated front panel controls for piano features like pedal noise, string resonance, and soft release allow you to easily refine the piano's character to taste. I love being able to quickly add or reduce these elements on the fly.
Onboard effects like reverb, delay, tremolo, and EQ also let you sculpt the piano sound with just a few knob twists. I enjoy adding a touch of room ambience or a vintage-flavoured EQ to customize the piano for different songs. The effects sound great and are easy to adjust in real-time.
Connectivity
The Nord Piano 4 provides a range of connectivity options to interface with amplifiers, PA systems, headphones, and more.
For audio outputs, it has both 1/4″ and 1/8″ stereo jacks. This allows you to easily connect to any keyboard amp, PA system, mixer, or recording interface. The dual outputs let you send signals to two destinations at once, like a house PA and stage monitor.
A 1/4″ sustain pedal input and 1/8″ control pedal input provide connectivity for standard sustain and 3-pedal controllers. Nord's optional pedals work seamlessly, but various aftermarket pedals can be used as well.
On the rear panel, the Nord Piano 4 includes MIDI In/Out ports for interfacing with external synths, sequencers, and controllers. This allows for more advanced MIDI control and routing options beyond just playing internal sounds.
For silent practice, there is a dedicated 1/8″ headphone jack on the front panel. It provides enough power to drive headphones at ample volume levels.
One notable omission is the lack of any USB connectivity. The Nord Piano 4 cannot act as a MIDI controller over USB or audio interface. This is likely to keep the design focused specifically on stage performance rather than studio recording.
The streamlined selection of ports provides the essential connections needed for the stage while leaving out extraneous extras. If you primarily want MIDI and audio I/O to integrate with live rigs, the Nord Piano 4 has you covered. Just don't expect advanced studio integration or MIDI over USB capabilities. As a dedicated live performance keyboard, the connectivity is ideal.
Gig-Ready Design
The Nord Piano 4 clearly embraces its role as a gig-ready stage piano. The streamlined layout places crucial controls right at your fingertips. Changing programs or effects is fast and frustration-free.
The compact, portable design makes transportation easy – I can fit it in my small car along with other gear. The optional custom gig bag is a great investment as well, letting you safely transport the Piano 4 and accessories together.
On stage, the Piano 4 provides a very stable keyboard platform thanks to its weighted construction and quality stand. I never worry about it sliding around or tipping over. The front panel is also angled for better visibility in low stage lighting.
Reliability is paramount for gigging musicians, and the Nord Piano 4 delivers. Even after months of regular use, it has performed flawlessly every time. It turns on instantly and connects to amplifiers or PA systems with no fuss. I have full confidence in bringing it to performances.
Accessories
The Nord Piano 4 piano offers unbeatable sound quality and control. Plus, it comes with great accessories! There's a sturdy metal stand, a single power cable, a sustain pedal, and a specially designed-carrying bag.
The stand adjusts for the perfect playing angle when sitting. Rubber feet let you move the instrument without scratching the floor. The power cable goes straight into the wall socket for reliable voltage.
The carrying bag safely stores the piano and its accessories. It's perfect for travel or taking on stage. This digital piano also has several expandability options. It's ideal for studio or home recording.
Drawbacks
While I find the Nord Piano 4 to be an excellent digital stage piano overall, there are a few drawbacks worth mentioning:
The synth section, while very usable, lacks more advanced features that a full synthesizer provides. Dedicated synth players may want to supplement it with another keyboard.
Onboard memory is generous at 1 GB but could still fill up quickly for players with large sound libraries.
No built-in audio interface or MIDI over USB capabilities. Need to connect directly to amps/PA system.
At $1900-$2000 price range, it sits at the higher end for digital pianos.
However, none of these are deal-breaking issues for me. Given its purpose as a specialized stage piano, the Nord Piano 4 hits its target well. For gigging piano players, it packs the right set of features into a compact, road-ready instrument.
Summary
After playing it extensively both at home and on stage, I can highly recommend the Nord Piano 4 to gigging musicians looking for an authentic acoustic piano experience in a portable digital piano.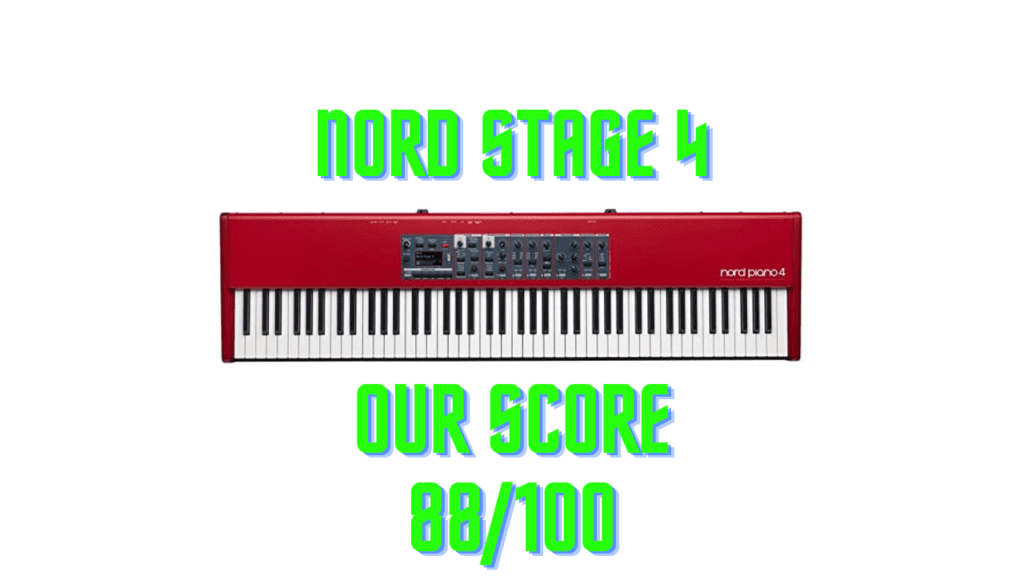 It provides one of the best feeling keyboard actions out there, perfectly weighted and responsive for piano. The huge selection of top-notch piano sounds give you an incredible amount of tonal options.
Intuitive controls and a streamlined interface make the Nord Piano 4 fast and frustration-free to use live. It has proven to be a reliable instrument that I can trust on gigs. Add in the lightweight, compact design and integrated sound system, and the Piano 4 is an extremely capable all-in-one gigging solution.
While the synth section is secondary, it adds useful sound expansion capabilities. The focused design philosophy shines through in every detail of the Nord Piano 4. It delivers exactly what piano players need in a straightforward, no-nonsense package.
If you're shopping for a high-quality stage piano that nails the authentic acoustic piano experience while staying portable, the Nord Piano 4 absolutely deserves your consideration. After playing Nord keyboards for many years, I can say with confidence that the Piano 4 represents the pinnacle of their stage piano line. It will provide many years of enjoyment and hassle-free gigging.
FAQs
Q: What is the Nord Piano 4?
A: The Nord Piano 4 is a digital piano that offers the best piano sound and performance features for its price range.
Q: How does the Nord Piano 4 compare to the Nord Stage 3?
A: The Nord Piano 4 is a dedicated piano instrument, while the Nord Stage 3 is a versatile stage keyboard that includes piano sounds as one of its many features.
Q: Does the Nord Piano 4 have a grand piano sound?
A: Yes, the Nord Piano 4 features high-quality grand piano samples that accurately reproduce the sound of a grand piano.
Q: What is the Virtual Hammer Action technology in the Nord Piano 4?
A: The Virtual Hammer Action technology in the Nord Piano 4 simulates the natural response and feel of playing a real acoustic piano with weighted hammer action keys.
Q: Can I use the Nord Piano 4 as a sample synth?
A: Yes, the Nord Piano 4 has a sample synth section that allows you to create and manipulate sounds using samples from the Nord Sample Library or your own samples.
Q: What are the features of the piano section in the Nord Piano 4?
A: The piano section in the Nord Piano 4 includes various piano filters, seamless transitions between different piano sounds, and a wide range of customizable piano effects.
Q: Is the Nord Piano 4 compatible with other Nord keyboards?
A: Yes, the Nord Piano 4 is fully compatible with other Nord keyboards and can be seamlessly integrated into a setup with other Nord instruments.
Q: How many split points does the Nord Piano 4 have?
A: The Nord Piano 4 has 7 split points, which allow you to divide the keyboard into different zones for playing different sounds.
Q: What are the dedicated knobs on the Nord Piano 4?
A: The Nord Piano 4 has dedicated knobs and buttons for controlling various parameters and settings, providing quick and easy access to essential functions.
Q: Does the Nord Piano 4 have USB MIDI connectivity?
A: Yes, the Nord Piano 4 has USB MIDI connectivity, allowing you to connect it to a computer or other MIDI devices.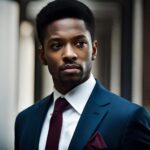 Hi, my name is Pallav, and I've been playing the piano for over 20 years. I'm also the proud owner of Digital Keyboard Piano, an online platform where I share detailed reviews of the latest MIDI controllers, digital pianos, and related equipment.